A recent trip to my local Bevmo gave me some real insight into what people are drinking in the Central Valley – it's certainly NOT stouts. I could barely find enough stouts to actually create a tasting session. I probably would have preferred to do a an individual session for sweet stouts, dry stouts, American stouts, and English stouts.
Nope. Not this time. I picked up one of every style of stout they had in the store (with the exception of Guinness). The total was 4 beers. (2 pints, 1 bomber, and 1 six pack). Despite the lack of selection, I was excited to try my new stout glass from Rogue + Left Hand + Spiegelau.
Beer 1: Samuel Smith's Organic Chocolate Stout
Beer 2: Rogue Chocolate Stout
Beer 3: Belhaven Scottish Stout
Beer 4: Shipyard Blue Fin Stout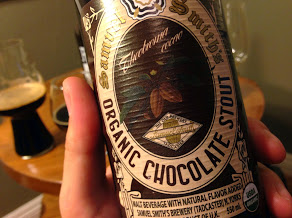 Samuel Smith's Organic Chocolate Stout
Aroma:
The first stout I tried for this session, this one had a very strong aroma of dark chocolate. Unfortunately, it was very artificial smelling. If you have ever tried Axe Dark Temptation (http://www.theaxeeffect.com/#/axe-products/dark-temptation-body-spray) body spray/shower gel or chocolate flavored chapstick, this is the dominant aroma here. It was very perfumy, and though obviously chocolate, I found it pretty unpleasant.
I could tell this one was going to be sweet as well, and it reminded me of that general "Halloween candy" smell of sticking your nose in a big bucket of candy.
Taste:
Artificial chocolate dominated the beer, which is funny because it's supposed to be organic. It was sweet and desert-y, and reminded me of a chocolate protein shake. Yeah, it doesn't sound too great does it? There was some roastiness in there, but not much.
2nd tasting, With Notes
Upon second tasting without mixing with other stouts, I still found it way too chocolaty, too sweet, and too much for an entire pint. I think a tulip glass with some kind of chocolate dessert would be best for this beer.
From The Website/Bottle
Brewed with water from the original brewery well sunk in 1758, the gently roasted organic chocolate malt and real organic cocoa used in this ale impart a delicious, smooth, and creamy character with inviting deep flavors and a delightful finish…bla bla… they brew in traditional coppers, Yorkshire Squares for fermentation (paraphrase).
New Insight
Vanilla – I read quite a few reviews online that talked about vanilla flavors in this beer. This might be the "artificial" flavors that I'm tasting. I really don't like vanilla extract flavor, so this may have contributed to my negative comments about beer. This also might be a common thread between English stouts because I had similar criticisms of the Belhaven Stout below.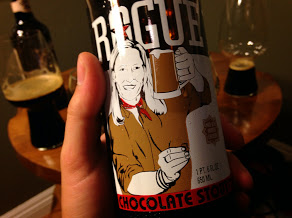 Rogue Chocolate Stout
Aroma:
Faint chocolate aroma with a more dominant roasty flavor here. This could be in part because it was tasted after the Samuel Smith's above. There's certainly a drier smell to it, and it also had the darkest colored head of all the beers.
Taste:
Initially I was taken aback by the acidity and astringency of this beer. But that's the trouble with tasting more than one stout..you start to compare instead of judge individually. I had a whole bomber of this and after my taste buds forgot about the previous beers, I was able to see more of what Rogue offered here.
It was a real BEER, not just a chocolate gimmick beer. The chocolate notes that I tasted were very subtle, and might not be obvious to the untrained drinker. Though it said there was chocolate added, while drinking, I had the feeling that all chocolate flavors were a result of the type of grain used.
The head was quite creamy on this one, more so than the others.
2nd tasting, With Notes
Rogue ended up being my favorite beer of the bunch, and the more you drink this one, the more the chocolate comes through. Oh, and this was an American stout? I didn't know! had some bad American stouts before, wasn't happy about the category, so I guess not all are that bad. Previous American stouts I had tasted like black ales – basically an ale with dark grain added.
From The Website/Bottle
TASTING NOTES: Ebony in color with a rich creamy head. An earthy flavor of oats and hops that gives way to a rich chocolate truffle finish.

11 INGREDIENTS: 2-Row, C120, Chocolate & Rogue Farms Dare™ and Risk™ Malts; Rogue Farms Rebel™ Hops; Rolled Oats, Roasted Barley, Chocolate; Free Range Coastal Water and Pacman Yeast
New Insight
99/100 on Beer Advocate, 99/100 on RateBeer… I guess this is a popular one. I agree. It's a stellar beer.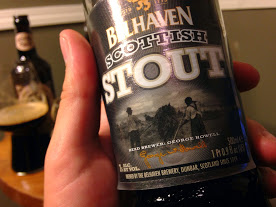 Belhaven Scottish Stout
Aroma:
This one definitely smells English – I wonder if it's the yeast. It reminded me a lot of Suffolk English ales like Old Speckled Hen and Olde Suffolk. There's some acidity and roastiness in there, but not much.
Taste:
I wonder if this stout uses the same yeast as those Suffolk ales because the flavor is so similar. I know that English ales commonly have a lot of fruity esthers, so perhaps it's just a commonality between English ale yeasts, but drinking this, I'd hardly call it a stout – I'd say it's a dark English Ale.
Definitely full bodied, and not much roast or hops to it (some hops at the finish). Too sweet for me, at least in this tasting session.
2nd tasting, With Notes
Some others said they taste bakers chocolate and nuttiness – I agree. I think it's nuttiness that was throwing me off in combination with the sweetness. I saved this for the next day at lunch (hard to drink 4 full beers in one sitting, especially while working) It's much better drunk alone without influence of other beers, as it grows on you.
The hops are still barely perceptible but they come through on multiple drinks as a kind of lingering bitterness. It's still a very sweet beer.
From The Website/Bottle
The Scottish Stout was described by the Beverage Testing Institute as having "aromas of baker's chocolate" and "charred nuts".

Using a traditional Scottish recipe from the 1800's this deluxe stout is brewed with pure Scottish water drawn from the Belhaven brewery well. The black beer's exceptional qualities arise from the triple blend of malts crafted as only the master brewers at Belhaven know how.
New Insight
So again, we come to the vanilla thing. Vanilla was mentioned again in other reviews, so I think this is the "sweet" flavor I keep picking up. I was also surprised to find out that it was 7% ABV because it hid the alcohol well. The carbonation here was very soft…almost under carbonated. I guess that's an attribute of cask ales and intentional, and I think it accentuated the sweetness.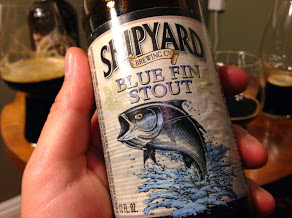 Shipyard Blue Fin Stout
Aroma:
Very roasty and acidic. It was also carbonated way more than the others and had to be carefully poured. I bought a 6 pack of this one, and each bottle was the same. initially I thought this one had more porter qualities, but the dry stout flavors came through on tasting.
Taste:
Acidic, astringent, dry, roast, and very little body. Actually, I was surprised this was a stout. Most of the stouts I had up to this point have been milk stouts and sweet/breakfast stouts. I actually thought something was wrong with the beer!
I was very surprised at how dry and astringent it was.
2nd tasting, With Notes
Another beer that I thought was best when drunk alone without influence of other beers. Drinking against those sweet English stouts just made THEM too sweet and this one too dry.
From The Website/Bottle
2-Row British Pale Ale, Crystal, Chocolate, Black, Roasted Barley, English Yeast

A classic Irish stout. Full-bodied yet smooth and spectacular in appearance.
New Insight
I'm really surprised it was made with an English ale yeast because I did not taste any fruity esthers or any other qualities that I would associate with English ales that I know.
Others had issues with over carbonation as well, and yeah, I'd agree that there are some coffee notes in there.
Conclusion
With the exception of Rogue's Chocolate Stout, to be honest, I really didn't like these stouts much. That surprised even me because I always thought stouts were one of my favorite styles of beer. Now I'm forced to question my tastes!
Were these not very good beers? (They all got high scores on BA and RB)
Were they expired? (no one drinks stouts in Modesto so I'm sure they sat on the shelf for a while, plus the English ones were imported)
Was this just a result of combining too many contrasting beers?
I was also surprised at they HUGE variety in flavors and aromas in these beers. I would not say that they are one style because there weren't that many similar qualities to them. This is in contrast to the IPAs, which I felt drank against one another quite well and enhanced the tasting of their various qualities.
The winner by far for best beer in the stout tasting session was the Rogue Chocolate Stout. It was an excellent beer with just enough chocolate flavor/aroma to call it a chocolate beer.
[social-bio]