The holidays are coming up and homebrewers are already chomping at the bit ready to get some new toys. But what kind of gifts are going to make the homebrewer in your life smile widest? Even if it seems like they already have everything, or you just don't know anything about the hobby, there are still some awesome gifts out there that any beer lover will enjoy.
So here's my Top 10 Holiday Gifts for Homebrewers 2014 List.
1. BYO Magazine Subscription + BYO Gear
Cost: $28/year
If you didn't know, Brew Your Own is an incredible information source for homebrewers. It's a company run by some of the best brewers in the United States, including Jami Zanishef, host of the Brewing With Style podcast and John Palmer, the guy that basically wrote the bible on brewing at home.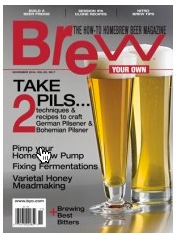 A 1 year subscription (8 issues) will cost you $28 and a 2 year subscription (16 issues) costs $44. The magazine is one of my top 2 favorite beer magazines because it focuses not on beer itself, but on making it. Other magazines like Draft Mag and Beer Advocate are nice, but they don't focus on homebewers needs.
There's also fun stuff like a hat and shirt that are great to show off your BYO pride. Normally boring gifts like clothes suddenly become interesting when they are logo'd with something you care about.
2. AHA Membership + Zymurgy Magazine Subscription
Cost: $43/year
If the brewer in your life is not an AHA member, they should be. Not only can you get discounts at a lot of beer-friendly places but with your membership comes a 1 year subscription to Zymurgy Magazine (6 issues).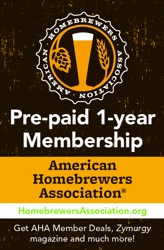 Remember those Top 2 mags I mentioned above? This is the other one. Sorry to harp on the 'reading' thing, but I most of us want to brew better beer, and we accomplish it by learning. There's also a lot of stuff about fun DIY projects, related topics like making mead or cider, and technical talk about improving our craft!
3. A Beer Recipe Kit
Cost: $25-$45
This is an easy one. There are hundreds of types of beer available in pre-made recipe kits. You buy the grain (or extract), yeast, and any additives as part of a package. Grains come pre-milled if you want, then all you need to do is either boil up the wort and brew as part of a normal brew day.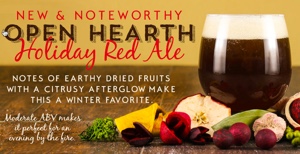 It takes the headache out of recipe formation. Sometimes it's fun to see what other brewers have already tested and produced so you can learn a new technique. Even the most advanced brewer out there can appreciate pre-made recipes and even add their own flare if they want to. Pick a beer style they like, select the recommended yeast, and it'll be at your doorstep in a few days.
Note: Most kits make 5 gallons, though there are some 1 gallon kits from specific sites. If you're buying for an extract brewer be sure to get an extract kit, or an all grain for the all grain brewer (linked below)
4. Custom Tap Handle
Cost: $15-$200
Have you got a draft system at home? You'd be surprised at the crazy amount and variety of styles of custom tap handles there are out there. You can change out that boring black standard handle with something like a real deer antler, hand carved wood, laser etched custom logos, or even ones with digital screens that you can program on your computer!
The possibilities are endless really. Most of the really creative ones available that are also for sale I found on Etsy, but there are plenty of independent companies and individuals that sell their wares on the web. Search in Google!
5. Personalized Glassware
Cost: $8-$50
Another gift with endless possibilities, you can get anything from a standard pint glass to other types of specialty beer glasses with a huge range customization options. Growlers, tasters, and snifters are also good options!
You'll have to sort through the hundreds of options out there, but Etsy (yeah, again)is a good place to start. Most of them are pretty template based (and you can enter your own logo or name), and don't get mixed up with all those groomsman glasses.
I'll have to keep looking to find a truly 100% customizable laser or hand etched option, so I'll get back to you on that. Feel free to post a link in the comments if you find something.
I would prefer craft beer glasses over things like steins because I think they're kind of gimmicky, but you know your gift receiver better than me. Alternatively, you could get a very diverse and high quality set of 5 craft beer glasses for $20 including shipping (without personalization).
6. Beer Cap Collector Shadow Box
Cost: $27 – $65
Most beer lovers are absolutely proud of how much they drink What better way to keep tabs on your progress than a cap collector?
There are a few options for graphics, all beer themed of course.  There's about 15 options on Amazon, another option from Craft Beer Hound (nicest looking in my opinion, shown above) and a ton more available on Etsy including personalized options (I'm seriously not an affiliate of Etsy, but I wish I was with all the cool stuff they have)
Great gift for a kitchen, man cave, or place you brew!
7. A Book
Cost: $20
Books are boring until they're about something you love. Some of the top professionals in the craft beer industry have teamed up to create incredible resources based on years of experience. There are a ton of books out there, but here are 4 from the series I recommend:
They work even better as a set, and area available as ebooks and physical books (I own the physical ones except Malt, which is not available yet).
Another fantastic read that I've been working on is Radical Brewing. There are a lot of fun recipes in this book, as well as information on weird ingredients like how to brew with different types of fruit & spices, old beer styles, and different types of grains you can use to create truly unique brews.
8. Beer of the Month Subscription
Cost: $40-$70/month (including shipping)
Ok, now we're getting into the drinkers gifts! Imagine a world where awesome beer was delivered to your door every month. Well, that world is real, and there are a ton of options available based on beer interest.
I haven't joined any yet, but plan on trying a few and writing a review of them at some point. So far, the one that looks most interesting to me would be the Rare Beer Club, but it's also the most expensive. The same company does a US and International Microbrew Club as well.
Other options are the Craft Beer Club or Beer of the Month from Clubs of America, which I'm currently reviewing right now.
9. Grog Tags
Cost: $17 for 12 tags
Need something a bit more general? Get grog tags. In fact, I've already selected my favorite for you. It may look boring compared to the other labels, but it allows for specifics that all you beer buddies can geek out on.
"Whoa?! How'd you get such good attenuation with this abbey ale yeast?"

"I see your FB was 1.010, no wonder this thing is so dry"

"For 9% ABV you can't really taste the alcohol in it."
And so on. Every homebrewer needs to track details about his beer, then talk about it with people that care. Using erasable, reusable, labels will help. You can also pick from their humous pre-made labels, or upload your own photos.

10. Hard To Find Bottles
Cost: $10-$30
If all else fails, buy some fantastic beer for him or her. Fly to a Belgian monastery to get some truly rare specimens, but a trip to the $10-$20 section of your local bottle shop, Bevmo or Total Wine will likely turn up a number of awesome selections.
Don't know what to buy? Price is one thing to look at. Get anything "barrel aged" or "imperial" and that will surely impress them. Weird ingredients like moon rocks, curry powder, or bbq pork are always fun to try.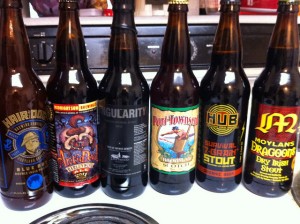 Really – how much are you looking ton spend? 5 bottles will likely cost you $70 or more including tax. If you really want to go all out, pick up a couple six packs of a style they like from a few different breweries and you've got the perfect holiday gift for any beer lover, whether they are a homebrewer or not!
Have you gotten any awesome gifts in the past? What were they?
photo credit: alirijd
[social-bio]