This article contains affiliate links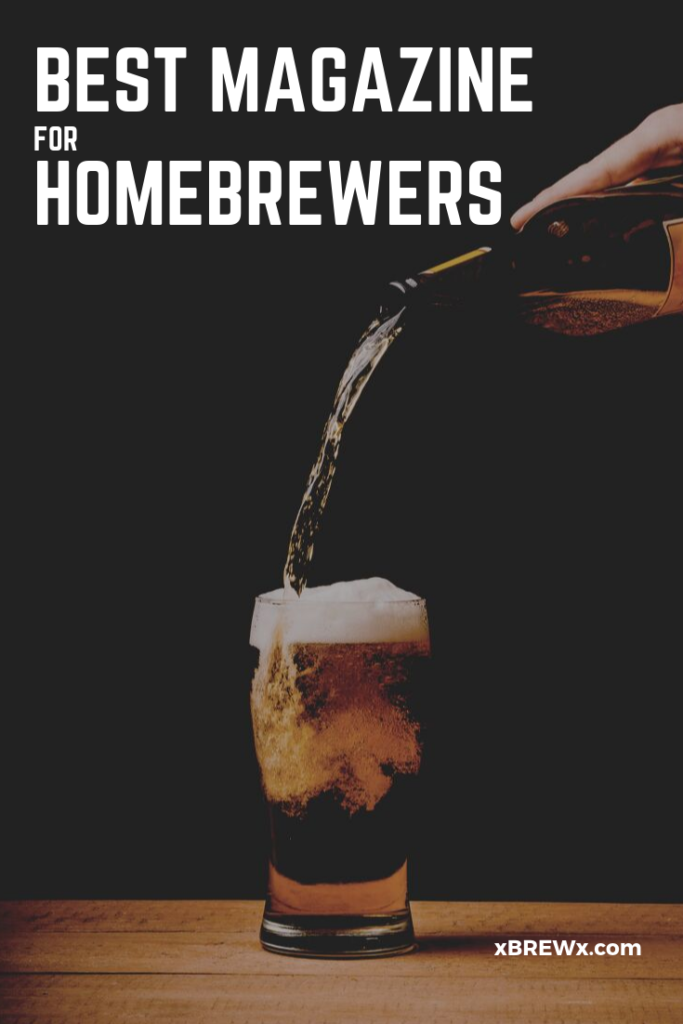 I went a bit nuts in the past few months and subscribed to 5 different beer mags. I honestly had no idea which one was going to be the best magazine for homebrewers, and I needed some content ideas for my blog, so got a 3 year subscription to all of them.
I wrote this list a couple years back, and just came back to update it. Well, I was surprised to find out that my original viewpoints after four months of membership are pretty much the same after three years of subscribing.
It's pretty obvious to me which homebrewing magazine subscriptions I prefer, although each has its own merits. If you want to improve your brewing skills and make better beer, a subscription or two is something to definitely consider.
It'll probably be obvious which ones I like the best as you read though, but I'll sum everything up nicely at the end with my top pics.
Best Magazines For Homebrewers
All About Beer Magazine
Beer Advocate
1. Brew Your Own (BYO)
8 issues/year
$30/year ($3.75/issue)
Available Everywhere (+$5 Canada, + $17 International)
*My Choice for Best Homebrewers Magazine*

And now for my #1 choice! Brew Your Own was definitely my pick for the best magazine for homebrewers, and there are many reasons why.
Probably the top reason for me was that the articles are focused on homebrewing, and are targeted towards various levels of brewers. There are very beginner level articles, as well as more advanced ones. There are DIY homebrew projects that need a hammer and a drill, and some that require a lot more skill. There are results of interesting experiments, and ones that you can do at home too.
Brewing, fermentation, tasting, competing – it's all here. BYO is also strongly connected to the Brewing Network, which is a group of podcasts that are run on various themes. My favorites are Brew Strong and Brewing with style, which I name just because Jamil Zainesheff is the host of those shows, and does the style profile column in the magazine.
No matter what your level of brewing skill, there's something for you in here. Here are some of my favorite articles from recent issues:
sour beers
brewing brett IPA
competition tips
australian + new zealand hops
science of beer foam
how to brew a vienna lager
build a stir plate
guide to yeast nutrients
how to your own beer recipes
single malt single hop experiments
unique brewing ingredients
new IPA styles added to guidelines
brewing 2 beers from one grain bill
high gravity lager tips
cider making tips
Insane, right?! I always have so much fun reading the articles here, and refer to them often.
Pros
wide variety of information
aimed at beginner or intermediate brewers
has occasional advanced brewing techniques (enough to justify the cost IMO)
tons of recipes
lots of ideas for crafting your own recipes
lots of DIY build instructions
learn about historical beer styles and how to make them
clone recipes!
Cons
some brewing information is basic or repetitive for advanced brewers
includes information about homebrew clubs, which is boring to me
Get A 1 Year Subscription To Brew Your Own Here
2. Craft Beer & Brewing
6 issues/year
$29.99/year print ($5/issue)
$24.99/year digital
Available Everywhere (Outside US may requires shipping costs)
This magazine seems like it has a lot more money behind its production than any other on this list. It's a lot thicker, there's a lot more content, and even the paper it's printed on feels very high quality. There are fewer issues, but it's a pleasure to read.
There's a good mix of articles for every type of craft beer drinker or brewer. There are articles and recipes for homebewers, fun product recommendations, featured brewery and brewer articles, as well as plenty of tips from the pros. There are beer recommendations + reviews, food recipes, and more. It really does cover everything.
The one thing I noticed was lacking was more of the in-depth 'how to brew' articles. My main reason for subscribing was not have a pulse on the craft beer community, but to learn how to brew better beer.
Much of the information is very much suited to me because I'm not an expert! But I think someone with a decent amount of brewing experience under their belt may get bored with some of the articles…stuff like "what's the difference between a milk stout and an oatmeal stout".
Pros
All around high quality magazine
Something for everyone (craft beer drinkers, professional brewers, home brewers)
Includes recipes, brewing tips
Cons
Fewer Issues
Fewer in-depth articles about brewing
Get A 1 Year Subscription To Craft Beer & Brewing Here
3. Draft Magazine
6 issues/year
$19.99/year print ($3.33/issue)
$14.99/year digital
Available Everywhere ($29.99/year Canada, $39.99/year International)

This is the lowest scoring of all the magazines I've read, draft mag just isn't for the homebrewer. In fact, I'd say that it's not really about "craft beer". It's about beer. There is quite a bit of a 'craft spin' on it, but it's basically a pop culture beer magazine. All of the stuff I am lukewarm about in other magazines but tolerate is what makes up most of the content here.
Top 10 lists
Infographics
"Fun Facts"
Food
Beer tasting reviews (useless unless you actually have the beers IMO)
Taproom + brewpub news
In my opinion, they focus very much on beer culture, but not the parts I'm interested in, i.e. the home-brew stuff. It's not a horrible magazine – I still read the damn thing. It would be appropriate for someone that has a mild interest in drinking craft beer, but will just read it when they are bored or for fun. It's not a learning tool, which is more of what I was looking for.
But for $3 an issue? Yeah, I'll renew my subscription next year. It's always good to have some craft beer reading material on hand.
Pros
Easy reading
Entertaining for guests to your beer room
Cheap reading material
Cons
Not homebrewer focused at all
Get A 1 Year Subscription To Draft Mag Here (discount link for $15.99/6 issues)
4. Zymurgy
6 issues/year
$43/year
Available Everywhere ($52 international)
I've been a member of the American Homebrewers Association (AHA) for about a year now, but it was a gift subscription. To get my hard copy of Zymurgy, I decided to start my own membership, and went for the 3 year deal right out the gate to save a bit of money. I have no intention of letting my membership lapse!
I was very excited to receive this magazine because I had read a few issues before at my buddy's house. To get started right away I ordered a few back issues, as well as the new Malt book. I was not disappointed!
Zymurgy is very homebewer focused. I clearly rank it as #2 choice for best magazine for a homebrewer to subscribe to.
It is very focused on NEWS related to homebrewing. This includes changes in local + state laws, competitions, clubs, brewing history, and updates from the AHA. There are also a lot of experiments from members of the association, like stuff about yeast, hops, water, malt (duh!), fermentation, and other ways to improve your brewing.
This leads to the only downside of this magazine, which is also an upside. Many of the articles are extremely detailed, focused, and to be honest, a bit over my head. Some articles assume you have a certain level of brewing knowledge that I just don't have yet. Don't get me wrong, I LOVE that this info is in there, and will surely enjoy reading it when I'm up to that level. But for now, I'll just have to skim it and look at the pretty pictures, lol.
I'm not involved in any homebrew clubs either, so some of the club info is kind of 'meh' to me right now. However, I do like reading about the competitions and what types of beers win, and where the brewers are from.
Pros
Made for homebrewers!
Tips on making better beer
Technical articles for experts
Supports people that support your hobby
Craft beer + brewing news
Includes AHA membership for discounts on beer
Cons
AHA topics may not interest some people
Some articles require advanced brewing skill or knowledge
Get A 1 Year Subscription To Zymurgy Here
All About Beer Magazine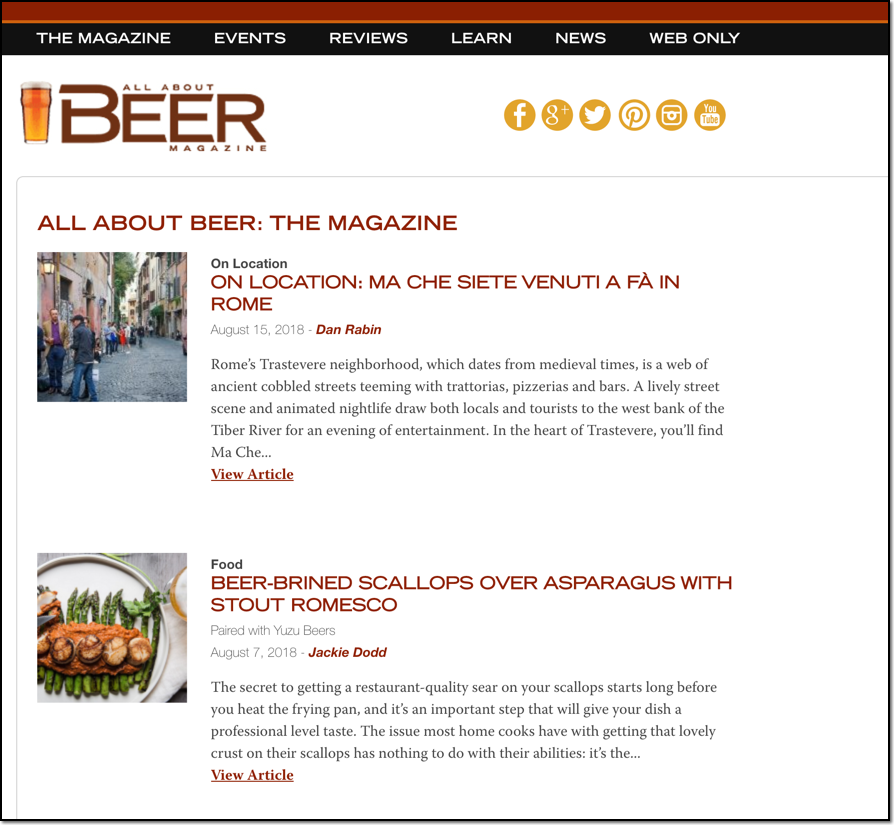 All About Beer Magazine was around for many decades before I started my subscription, but they called it quits not long after I joined. Apparently there were issues with staff not getting paid on time due to mismanagement, but that's not important.
While I received this magazine, it was actually one of my least favorites to read. It was more about the state of the beer industry, cooking with beer, and everything about beer…except homebrewing.
While the content didn't resonate with me, I guess it was good enough to be around for 39 years, so maybe for its audience, it was good stuff. For me, I just can't stand to read about beer unless it's about making it.
Oh well, at least your choices have narrowed down, now that it's no longer available!
Beer Advocate

I've mentioned a number of times on this website how much I dislike the comments I read on Beer Advocate. Though I love the scoring system, I just think a lot of the comments are douchey. Anyway, I was very skeptical signing up to Beer Advocate Magazine, and didn't read it for a while despite issues stacking up on my coffee table.
But before writing this review I figured I had better dig in. I was very surprised that it was a good read, and not at all like what I was expecting.
The most unique thing about this magazine compared to the others is the size of the articles. They are very, very short – usually enough to just fill a single page (including a photo or an ad). The magazine is very thin as well, making for a short read.
My main complaint about Beer Advocate is the large number of ads. For such a short magazine, and the fact that I'm paying already, it's kind of annoying. My #2 complaint is the featured taproom section. I don't travel that much to really care what's opening where because I'll never visit. I am also not really into cooking with beer, so I tend to skip this articles too, or just look at the pictures.
As far as topics go, this is for the craft beer enthusiast, not the homebrewer. The magazine has since been killed, so it's no longer an option.
So What's The best Magazine?
In my opinion, the best magazine for homebrewers is going to be Brew Your Own. The content is much more focused on the newbie-intermediate crowd, and they cover a wide variety of fun, as well as in-depth topics. In fact, their target audience is homebrewers.
You can choose digital, print, or both. I subscribe to both. I tend to use the print version more, for looking up recipes and just getting off my phone while I'm brewing, but the digital membership is good for doing online research.
Zymurgy is a close second, and a great magazine, but that magazine is more about the craft of brewing beer.
For example, you'll find a lot more info about homebrewing clubs and events in BYO, while Zymurgy might have a 5 page writeup about hop terpenes.
If you're an advanced homebrewer and are looking to improve your skills and making better beer is your only reason for subscribing to a magazine, then go with Zymurgy. If you just like making beer, and want to read about things like new styles, DIY equipment, recipe clones, and easy ways to make better beer, then Brew Your Own is the way to go.
---
Have you subscribed to any of these magazines? Which one is your favorite? If you have another one to recommend, let me know in the comments!