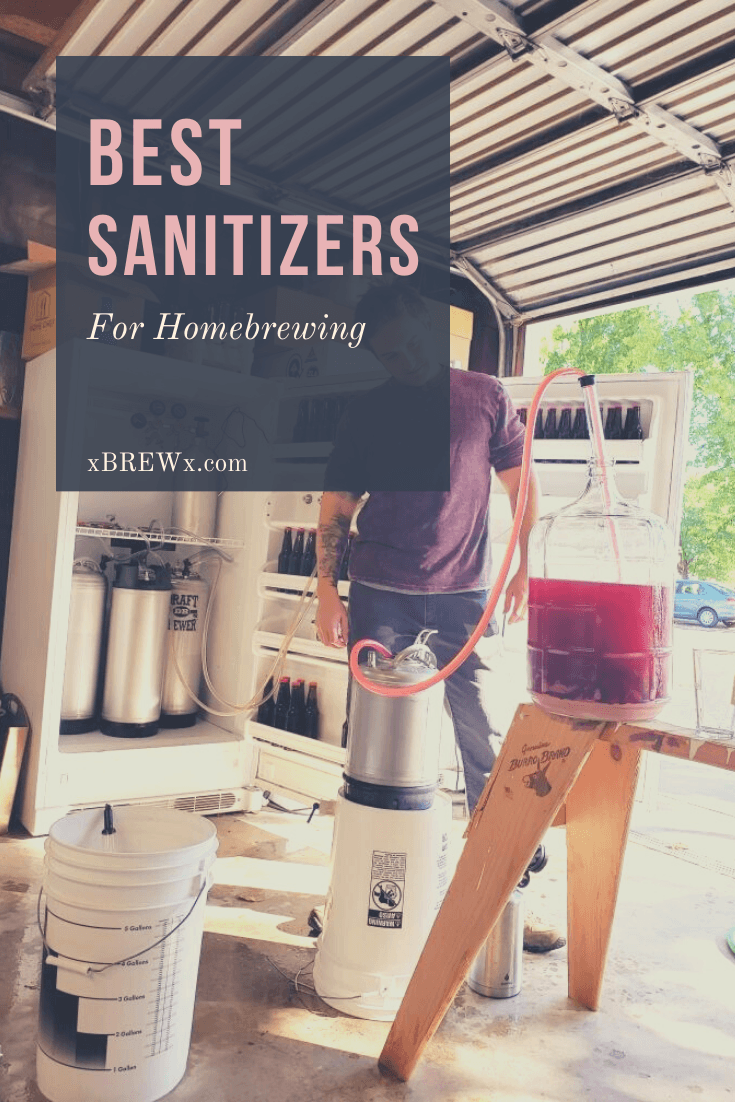 The first step in home-brewing is to acquire the necessary equipment, and the next is to clean and sanitize it. As any experienced homebrewer will tell you, sanitation is the foundation of a successful home-brewing operation.
One of the keys to successful homebrewing is understanding the difference between cleaning and sanitizing. Once we have cleaned our equipment of visible contaminants, we turn our attention to the invisible ones out to spoil our fun, literally! 
Sanitizing is the process of reducing microorganisms and contaminants to a level conducive for delicious beer.
Molds, wild yeasts, bacteria, and enzyme contaminants are the primary targets during sanitization. Another important detail to remember is the more you homebrew, the more likely your equipment is to become contaminated.
Diligence and meticulous methodology are the difference between a batch of home-brew well worth your time & energy, or a complete waste of several hours of preparation, not to mention the weeks of patient waiting.
Another important element of properly sanitizing your home-brewing equipment for consistent success is selecting a sanitizer that works for you. Home-brewing is often a work of love, but it is always a result of chemistry, whether realized or not. Realizing it greatly increases your chances of success and the quality of your home-brew!
Picking a sanitizer is an important step in this process but we are going simplify it by laying out the key factors to consider. Then we will use these factors to compare and review the best sanitizers available for homebrewing.
What Makes A Sanitizer Good For Homebrewing?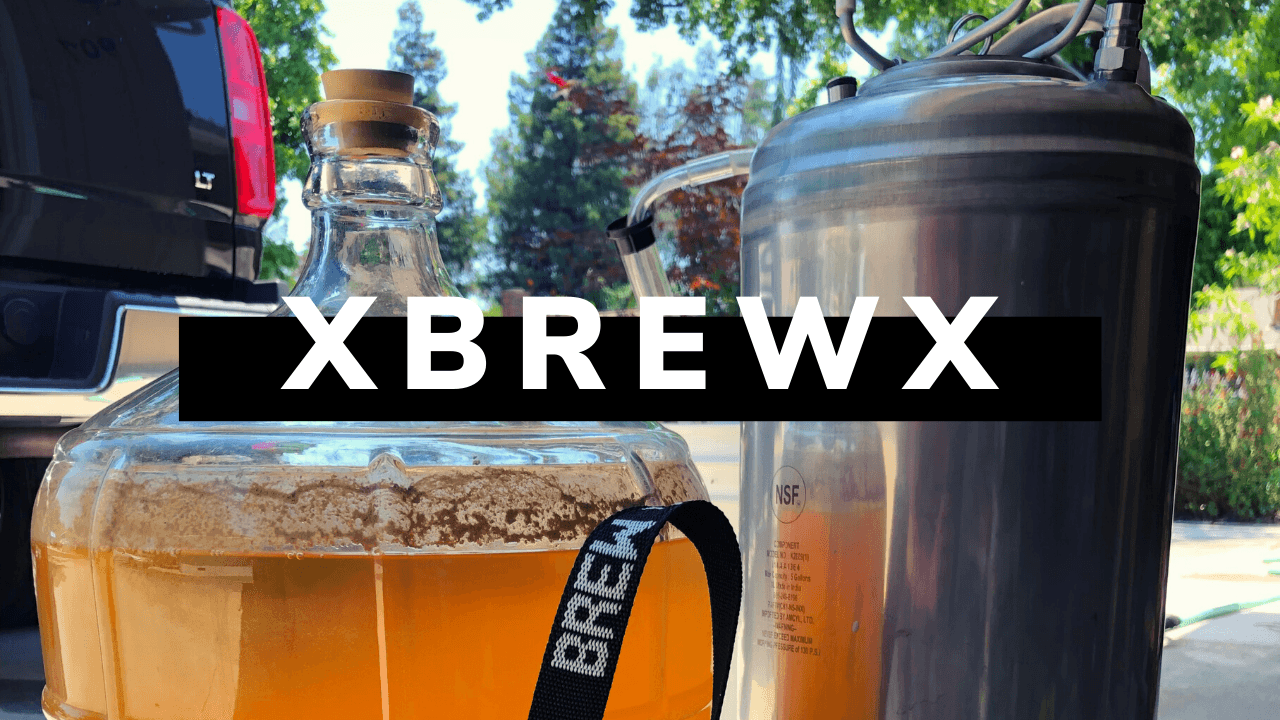 How do you rate a sanitizer? Aren't they all the same?
Effectiveness
Oscar Wilde once said, "Success is a science, if you have the conditions, you will get the result." This quote couldn't apply more to homebrewing. How effective your sanitizer is will directly affect the result of your homebrewing process. A common error many novice homebrewers make early on is mistaking a cleaner, such as Powdered Brewery Wash (PBW), for a sanitizer, like Starsan.
Cleaners will remove the visible contaminants from equipment but do not adequately reduce the number of microorganisms and enzyme containments that cannot be seen with the naked eye.
Using a sanitizer is necessary to create an environment that will allow your homebrew to ferment correctly. Selecting a proper sanitizer is step one in what most experienced homebrewers consider the most important process in homebrewing.
Cost
The good news is sanitizers for homebrewing are not overly expensive. Most sanitizers are effective at minimizing microorganisms and contaminants, but prep time and clean up is the biggest distinction between products.
Essentially, if you are willing put in a little more time and effort you can save a little bit of money by using a low-cost sanitizing option like bleach. If you are pressed for time, then you will likely spend the money on a sanitizer designed specifically for homebrewing. While effectiveness is similar across the board, the adage – you get what you pay for – applies to prep time and cleanup.
Safety & Ease of Use
If you are willing to brew your own beer you are likely a do-it-yourself (DIY) kind of person. With that being said, we all have an idea of where we fall on the sliding scale of the DIY community. Some will tackle almost anything armed with an online video and a trip to the hardware store; others take a more casual approach and are willing to pay a little bit more for a smoother and less involved experience.
Sanitizers for homebrewing come in both varieties and everything in between. When homebrewing was less common and fewer options were available, using household cleaners, such as bleach, were often a homebrewer's only option. The level of knowledge and caution was a bit higher for a beginner than required today. Luckily, today's homebrewer has a multitude of safe and effective sanitizers to pick from that are suitable for a variety of specific needs and levels of knowledge.
Going back to the use of bleach, while it is an excellent sanitizer still used by many homebrewers, we must stress the danger of mixing chlorine-based products with other chemicals. Extreme caution should be taken when using any sanitizer and mixing different types of sanitizers and/or cleaning products is not recommended in any situation.
Some sanitizers require a little more know-how than others and knowing yourself will help in selecting the right sanitizer. The difference in many sanitizers is the amount of clean-up, prep time, and/or ease of application.
The amount of time you set aside for your hobby can also play a factor in selecting a sanitizer. For instance, Iodine based sanitizers are very effective but can stain easily; if you are prone to messy spills you might want to explore other options!
You can always approach picking a sanitizer the old-fashioned way, try them all until you find the one that sticks! We suggest picking a sanitizer based on research and pairing it with your personal tendencies. The good news is we are going to break down the best sanitizers for homebrewing based on the product features just covered!
Top 5 Sanitizers for Homebrewing
Unscented Bleach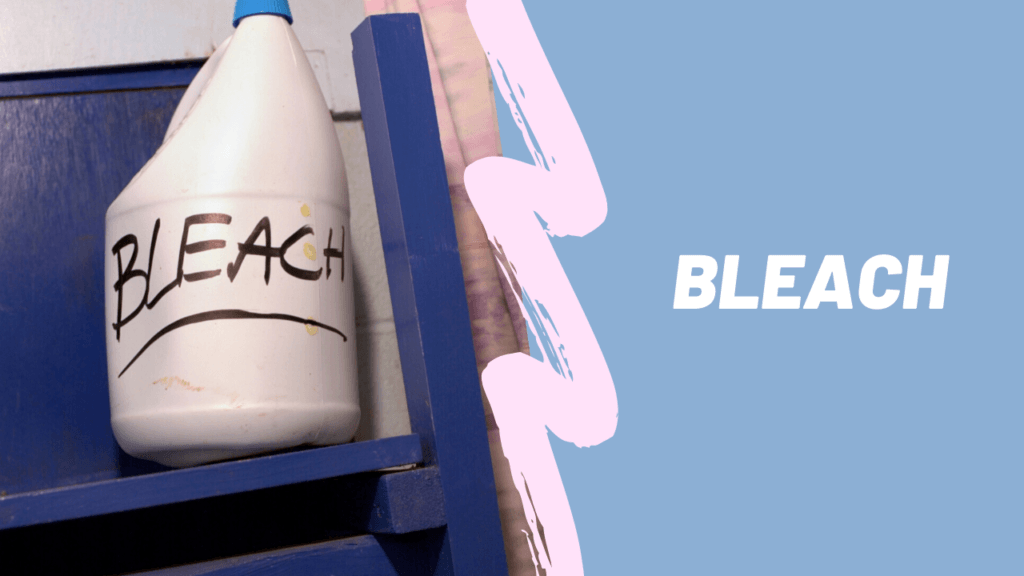 Using household bleach as a homebrew sanitizer is a point of contention among many experienced homebrewers. Once upon a time, you could not order homebrewing supplies so easily as we can now, and homebrewers had to use supplies that were more easily acquired.
This made bleach water a staple for many homebrewers in years past, but even with so many options available today, many homebrewers still swear by the sanitizing power of bleach. Bleach makes an excellent sanitizer and is much cheaper than other options.
However, one of the downsides of using bleach is if even a tiny amount gets in your beer it will be ruined. This makes rinsing necessary when using most bleach-based sanitizing solutions. Having to rinse off the bleach sanitizing solution takes additional time and water.
Another factor to consider is, to ensure equipment is not re-contaminated, the use of distilled water for rinsing is best. This can neutralize some of the cost benefits of using bleach. If you decide to boil your own rinsing water, using bleach as a sanitizer can become even more time consuming and quite a chore.
A bleach-based option is by far the cheapest option available, as very little bleach must be added to water to create an effective sanitizing solution. The extra time it takes to use bleach as a sanitizer causes many homebrewers to opt for products made specifically for homebrewing.
Again, bleach should never be mixed with other cleaning supplies.
Pros and Cons of using bleach as a homebrew sanitizer
PRO: It is a very effective sanitizer for homebrewing.
PRO: It is much cheaper than other sanitizing options.
PRO: It is readily available and can be picked up in almost any kind of local store.
CON: All bleach must be rinsed from equipment after use.
CON: It can ruin clothing and other items it contacts.
CON: If even a trace amount gets into the beer it will ruin your homebrew.
CON: It is extremely dangerous if mixed with certain household cleaning chemicals.
One-Step Cleanser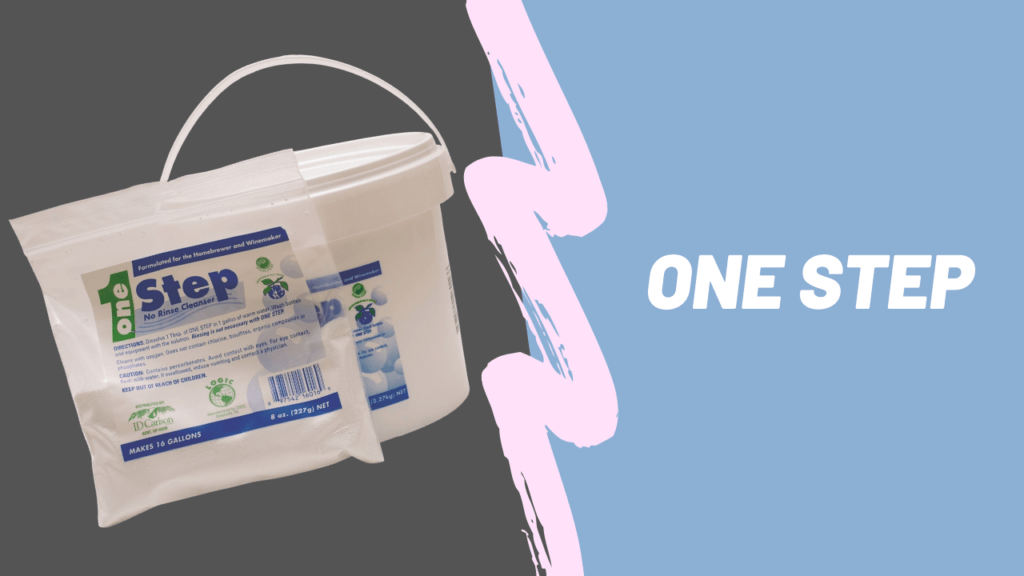 If you have ever brewed beer out of a starter kit, there is a good chance you used One-Step as your sanitizer. One Step is a chlorine free, no rinse, oxygen-based cleaning solution.
One-Step is a point of contention among the homebrewing community since it is no longer classified by the FDA as a sanitizing solution. While some homebrewers continue to use it as a sanitizer and report great results, many homebrewers will only use it as a cleaner. If it came with the kit you bought it will probably suffice for the time being, but there are sanitizing options for a similar price that are identified by the FDA.
Pros and Cons of using One-Step Cleanser as a homebrew sanitizer
PRO: Many first-time homebrewers are familiar with it.
PRO: It is chlorine free.
PRO: It is no rinse.
CON: Is not recognized by the FDA as a sanitizer.
CON: Experienced homebrewers consider it a cleaner only.
CON: There are FDA approved sanitizers in same price range.
BTF Iodophor
BTF Iodophor is a long time go-to sanitizer brand for many experienced homebrewers and for years was the number one choice among homebrewing enthusiasts. The recent rise of Starsan has unseated Iodophor as the hottest homebrew sanitizer on the market, but Iodophor remains a staple of many serious homebrewers. It has a very low contact time as it only takes about 60 seconds for it to sanitize.
Many argue it is still the best option based on the "foam debate".
Iodophor is considered a low-foam sanitizer while its most direct competition, Starsan, is considered a high-foam sanitizer. When sanitizing a large piece of equipment, such as a large "carboy" tank, the amount of foam differs greatly between the two products. While it is not a factor in the quality of the finished product, many feel it is just an inconvenience dealing with so much foam.
One of the downsides of Iodophor is, being iodine based, it can stain equipment over time, or if too much is used. It can also produce a bad odor if overused and can stain clothing and other items if spilled.
Iodophor is slightly more difficult to effectively store than most other sanitizers because it is very susceptible to air, sunlight, and various other chemicals and compounds. If not carefully stored it will quickly become unfit to use as a sanitizer.
BTF Iodophor is one of the most used sanitizers by experienced homebrewers and many still swear by it.
Pros and Cons of using BTF Iodophor as a homebrew sanitizer
PRO: It is a proven and well-known sanitizer.
PRO: It is a cheap and equally effective alternative to Starsan.
PRO: It is a no rinse/low foam sanitizer.
PRO: It has a low contact time.
CON: It can stain equipment over time.
CON: If too much is used, it can create a funny odor.
CON: It can stain skin or clothing.
CON: If not carefully stored, it has a very short shelf life.
Starsan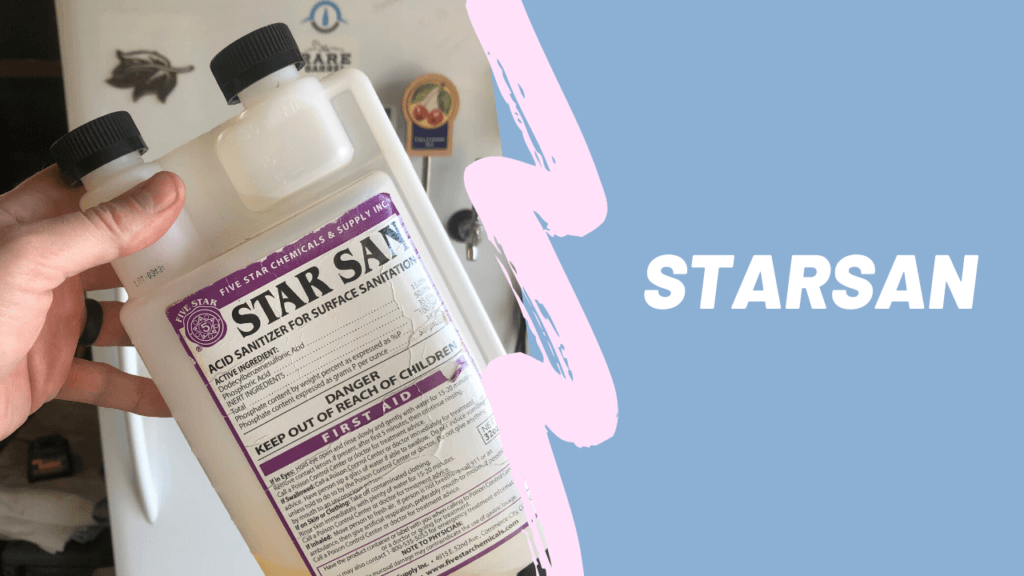 Starsan is the rising star of the homebrew sanitizing world, pun intended. It has all the pros of other competing sanitizers and almost none of the cons. It has the lowest contact time of sanitizers, only needing 30 seconds to properly sanitize. It is chlorine free and is a no rinse formula. Its reputation of being highly effective and easy to use has made it a very popular choice among homebrewers in recent years.
Since it is colorless and odorless, it is the most convenient of the homebrew sanitizers and is often put into a spray bottle for small scale sanitizing. It is the most expensive of homebrew sanitizers and the other noticeable drawback, mentioned above, is its propensity to produce much more foam than its iodophor counterpart. This is especially noticeable when sanitizing larger pieces of equipment.
Starsan is easily the best product among homebrew sanitizers, mainly because it is odorless and stainless, but it also outperforms in contact time and storage life. Despite a little extra foam and a higher price, we pick Starsan as the best homebrew sanitizer you can buy!
Pros and Cons of using Starsan as a homebrew sanitizer
PRO: It is a proven and well-known sanitizer.
PRO: It is odorless and colorless.
PRO: It is a no rinse sanitizer.
PRO: It has a very low contact time.
CON: It produces a great deal of excess foam when cleaning large equipment.
CON: It is quite a bit more expensive than its sanitizing counterparts.
Homebrewing Sanitizer FAQ
Do I need to wash my homebrewing equipment before sanitizing?
Yes, it is impossible to sanitize equipment if it is dirty and your homebrew will likely be ruined.
Why do I need to sanitize?
While your equipment may look clean after washing, the microorganisms that spoil your homebrew are invisible to the naked eye. Sanitizing is the only way to kill these contaminants.
What needs to be sanitized?
Anything that contacts your beer or any of its ingredients. Don't forget to sanitize your hands!
Do I Need To Wait For The Sanitizer To Dry?
No. As long as the contact time has been met, you can safely use your equipment.
Will Foam Affect The Flavor of My Beer?
No. Sanitizer is designed to not have an adverse affect on beef flavors, when when not rinsed off, so a small amount of foam won't affect the flavor of your beer.
Do I Need To Sanitize Hops, Fruit, Or Other Additions?
It varies. Hops, no. Fresh fruit should be rinsed of dirt and other materials. You can briefly rinse in sanitizer to be extra careful, but most people don't. If you are concerned about bacteria and wild yeast, try a different method of adding fruit like tinctures, or using frozen fruit.
Happy Homebrewing!