To be completely honest, I've never had a bock, and I've never had a Sam Adams chocolate bock. I was looking for inspiration for my next beer, and my brother said he liked this one. I asked around, and there seem to be quite a few people that like it. I decided to take the challenge of making a new beer style I'd never done before, as well as doing my first lager. Making the yeast starter was quite an adventure for me because there was a lot of research involved in learning how to do it correctly.
The recipe is an amalgamation of a variety or sources which are listed below. It's not quite a doppelbock, but it will definitely be stronger than originally intended because I made some mistakes in the recipe which are outlined below. We're still early in, so I'll update this post as changes occur.
Full List of Ingredients
7lb 0oz of US Munich 10L Malt
3lb 0oz of US 2-Row Malt
3lb 0oz of British Pale Ale Malt
1lb 0oz of US Caramel 40L Malt
3.00 oz of German Carafa I
1.00 oz of German Spalt Select
0.75 oz of German Tettnang
3 tbsp unsweetened cocoa powder
2 sliced vanilla beans in vodka
2 vials White Labs WLP833-German Bock Lager (yeast starter)
3.8 oz Corn Sugar
Targets
Preboil Gravity: 1.063 SG (15.8 Brix)
Original Gravity: 1.072 SG (18.0 Brix)
Final Gravity: 1.019 SG (10.3 Brix)
Volume at Pitching: 5.28 US gals
Grain Bill
7lb 0oz of US Munich 10L Malt
3lb 0oz of US 2-Row Malt
3lb 0oz of British Pale Ale Malt
1lb 0oz of US Caramel 40L Malt
3.00 oz of German Carafa I
Hops
1.00 oz of German Spalt Select (60 min)
0.75 oz of German Tettnang (60 min)
Mash & Boil
Single infusion mash @ 151° F for 60 minutes.
Sparge  to obtain 6.08 US gals of wort
1.00 oz of German Spalt Select (60 Min From End)
0.75 oz of German Tettnang (60 Min From End)
60 minute boil
Add 1 tsp Irish moss 15 minutes before end of boil
Add 1 tbsp Hershey's cocoa powder 10 minutes before end of boil
Fermentation
The desired volume at pitching is 5.28 US gals
2 tbsp cocoa powder
2 sliced vanilla beans in vodka
Pitch yeast starter (White Labs WLP833-German Bock Lager) and ferment at 50° F – 55° F
Ferment 2 weeks at 50° F
No secondary! Lager in primary for 4 weeks at 40° F
For more details on lager fermentation temperature, please see Further Reading below
Bottling & Priming
Add 3.8 oz corn sugar to bottling bucket
Bottle in 12 oz bottles
bottle condition for 2 weeks, then continue to taste
Changes:
Original recipe called for US pale ale malt. The brew store was out of it, so I substituted British.
Original recipe called for 2.5 tsp cocoa powder in fermenter. I added 1 in the last 10 minutes of boil, and 2 in the fermenter.
Original recipe says to ferment at 64°. This was clearly an error in the software. I will ferment at 50° for 2 weeks, then allow 2-3 days for a diacetyl rest at 55° – 60°
Lagering time will be extended from original recipe. Exact time is still undecided
Notes:
My preboil gravity was too low: 1.055 and my wort volume was too high (7+ gallons) so I did an extra long about (about 90 minutes). Unfortunately, it turned out to be too long, and I ended up with about 4-4.5 gallons at pitching. 1 hop bag broke during the boil leaving lots of hop pieces in the kettle. Most settled out during the chilling process, but it's worth noting because I think that sitting on hop debris for an extended period of time can affect the final flavor.
Original gravity was 1.079. I thought about adding some water to meet the desired 1.072, but decided against it. I'd rather have a non-diluted higher-than-expected gravity beer than run the risk of diluting the flavors. If anyone has any experience with diluting wort to meet a target gravity, I'd love to hear what you have to say.
I'm still undecided on how long to lager it for. The recipe calls for 4 weeks. I've seen recommendations of up to 3 months, plus extra time bottle conditioning to account for the cocoa additions. I will update this post as time progresses and we move further along in the process. The "chocobock" is currently in day 2 of primary fermentation, so we've still got a while.
[UPDATE] I lagered it for 4 weeks, and added 3.0 oz fructose for bottling. I only had 3.9 gallons of beer because of the over boil, which put it something between a bock and a dopplebock. A bock called for 3.2 oz while a dopplebock called for 2.8.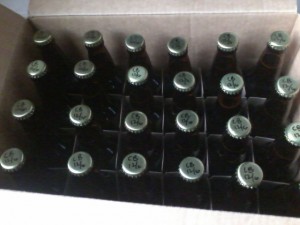 Tasting:
I sneaked a taste of my this bock 1 week after bottling, and it was still very hot, but oh so chocolatey. I was very happy with the level of chocolate I had achieved – aromatic, with a very cocoa flavor instead of fake milky or syrupy stuff. The 2nd bottle I opened after a 2nd week was just as good, and extremely clear – one of my clearest beers. I was sure that the Irish moss AND biofine clear was the reason for it.
But several weeks later and several bottles later, I'm detecting some off flavors. My friends say that they still taste chocolate as the dominant flavor, and are willing to drink it, but I can barely finish a bottle. Perhaps because I'm choking back my tears of disappointment. I can't put my finger on what the flavor is. I swear that it's band aid or plastic, but my brewer friend who has a more refined palate say that's not it. We are pretty sure it was something wrong with the yeast, either diacetyl from lagering improperly, or yeast stress. Maybe yeast autolysis from lagering on the yeast cake?
Obviously I will continue to taste and give it more time, but it's not looking good…
Update:
About 8 months later I still have some Chocobock left. Definitely not as good as I planned, and definitely not a Sam Adams clone. However, there's still hope. The astringency and off flavors seem to have mellowed with time. Unfortunately, it doesn't taste very chocolatey anymore either. It's pretty much a light doppelbock at this point (or a strong bock). If I have a couple beers before I drink one of these I can actually enjoy this beer now! I want to let it sit for a few more months and save a bomber for a year or two later just to see how it changes. It seems to be aging alright.
The other thing is that I entered this into a competition! I didn't win anything, but they didn't comment on any off flavors at all, which is kind of frustrating. I want to know what it is that I'm tasting (it's still there). It scored a 31, which is pretty middle of the road, but better than expected.
Recipe Inspired By:
Doppel Bockolate All Grain Recipe
Further Reading
About lager fermentation temp: Starting a Lager Warm
About lager fermentation temp: Can my lager ferment warm
[social-bio]