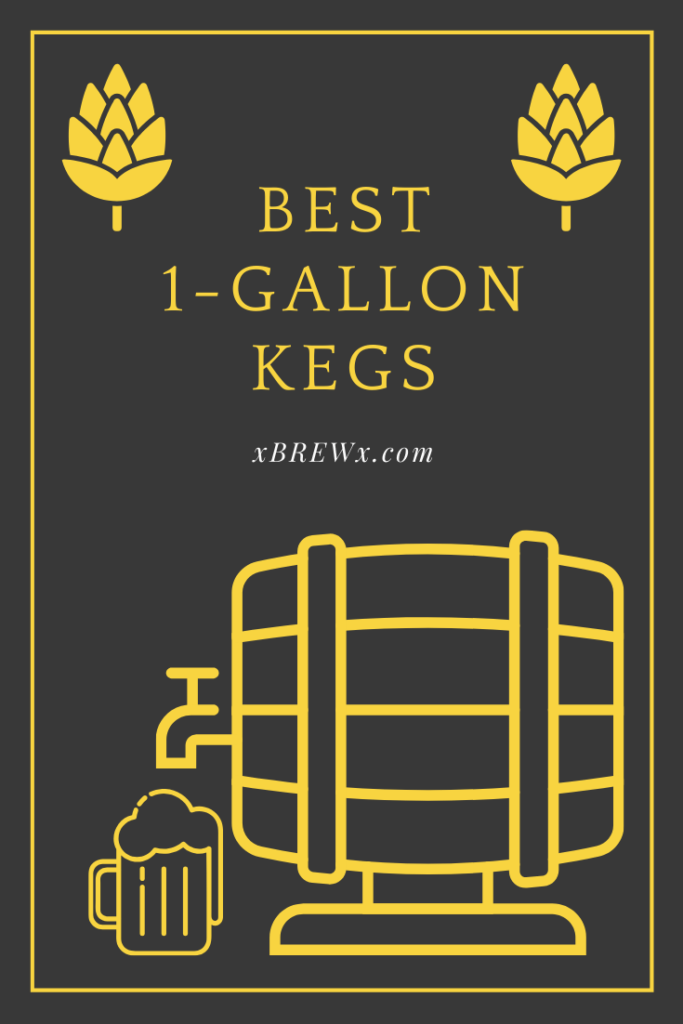 When you brew a single gallon of beer, you can bottle it, or you can keg it. Especially for small batch brewers, most people just bottle it because that's just how the kit comes. There are plenty of options 1-gallon kegs though, and it's worth considering if you plan on continuing to brew.
Bottling is great, and some of the oldest, most famous breweries in the world still bottle-condition their beers. However, there are many downsides to bottling, and you should definitely consider kegging your homebrew.
First, with bottling you make more of a mess. You've got to get that bottling tube in and out of eight different bottles. Nothing knocked over? Nothing overfilled? Doesn't sound like my operation.
On top of that, you may get stuck with a 1/2 bottle if you can't siphon every drop of beer, meaning you could lose about 8oz of beer.
Plus, you've got to clean/sanitize eight containers, increasing risk of contamination. With kegs, you sanitize just one container, fill one container, and you're done.
One more advantage to kegs is just the look and feel. There's nothing quite like pulling a pint of your homebrew from a beer faucet. Of course, if you do everything right, bottling is fine and I did it for many years. Kegging is just kind of a logical next step for consistent homebrewers
If you do want to start kegging, there are 1 gallon kegs you can buy. There's a bunch of different options, all with advantages and disadvantages. I'll let you know what my personal choice is at a the bottom.
1 Gallon "Reusable" Keg
(Easiest, Quickest, Cheapest)
One of the easiest and cheapest ways to get started with one gallon brewing is with these reusable 1-gallon kegs. I say "reusable", because they are not exactly made for multiple uses, but they can be. I mean, all kegs are reusable, right?
You may have seen these kegs in your local wine or beer store, with a popular brand of beer. The beer is served with a pull-out tab at the bottom of the keg. You can drink the beer, then reuse them for homebrewing, or you can just buy them new on Amazon.
These kegs come with a vent tab on top, secured by a bung. You can buy a sealed bung version or the vent bung version. The sealed version is just a single piece of rubber that fits into the hole, so there's less chance of something breaking, as can happen with overuse of the vent version, which has plastic parts that allow you to open the keg at the top.
Why would you want to open the keg after you put homebrew inside? You may accidentally overcarbonate, or as the beer warms, you may have foaming issues since the pull-tab serving system is not idea for serving beer.
This type of keg serving system was meant for using priming sugar. If you're brewing in one gallon batches, it's super easy to siphon the full batch the fully-fermented beer into this keg, add your priming sugar, seal, then wait 1-2 weeks for natural carbonation.
If you want to serve from a more convenient tap system, they make a product for that.
If you do go with this tap system for the 1 gallon mini keg, you'll need some unthreaded co2 cartridges. Some folks claim you can use the threaded, but most listings only mention unthreaded. You can serve multiple gallons of beer on a single cartridge, so the standard 10-pack will last you a while.
If you do get this system, make sure to get the plastic tab version of the bungs I mentioned above, because it comes with a hole in the center of the bung so you can get the tube down into the keg.
Last couple things about this system. These kegs won't last forever. They are not super strong. If you bang them around, dents could cause the keg to become misshapen when the beer is carbonating and under pressure. It's also very easy to damage the bung hole (lol) if you are too rough with the bung.
Do you need keg lube for the bung hole? Probably not, but some people use it to help create a better seal, which is needed to ensure successful carbonation.
Overall, there are a lot of folks successfully using this system. Avid homebrewers with high standards however, give it negative reviews. Are they crybabies? Maybe. Hard to say. There does seem to be a lot of issues with getting consistent carbonation.
However, it's a very cheap way to begin kegging your homebrew, and saves lots of time compared with bottling.
1 Gallon (Actual) Kegs
Most of the kegs here are actually 1.75 gallon. Even for 1 gallon brewing, that's fine. Nothing wrong with extra head space in terms of carbonating and serving your beer. Actually, with more head space, your beer will carbonate faster.
The only thing to watch out for is oxygenation. When you transfer beer into the keg, there will be oxygen in there just because that's regular air. You can flush it out with your CO2 tank, or with a CO2 cartridge.
If you don't plan on getting your own CO2 tank, you can carbonate your beer in kegs using priming sugar, as with the reusable kegs above, or you can carbonate using CO2 "charges". You'd just need a mini regulator that takes the charges, liquid/gas disconnects, and a faucet. Here are two sets you can get on Amazon.
The set above uses threaded CO2 cartridges. Most are threaded. Some regulators specifically say for non-threaded, so just check your details before buying.
So if you want to flush your keg with CO2 before transferring the beer, you're going to need the gas disconnect, regulator, and charges to do that. It's only a gallon of beer, which you can probably finish it within the week, so freshness might not be an issue, but it's a good habit to get into if you ever graduate to 5 gallons.
If all that sounds too complicated, just naturally carbonate with priming sugar, and you're good. Yeast uses oxygen during the fermentation process, so they'll eat up residual O2 while carbonating your beer.
Cannonball Keg (1.75 Gallon)
The cannonball keg looks a bit different from other kegs you might have seen, but it works the same. CO2 in. Beer out. There's not much else to it.
The handles are a bit different, but I think that was a design feature to make them stackable. I think that was a weird move because they also say it's small enough to fit in a fridge, and I'm not sure whose going to be stacking kegs in their kitchen fridge.
Plus, the smallness of these kegs is disputed, with many buyers saying that they basically take up a whole shelf space, so they are not 100% family-fridge-friendly as advertised.
Still, they work, and are way more durable than the previous 1-gallon keg system mentioned. You can use these kegs for a lifetime, though you may need to replace some o-rings at some point (years down the road).
To carbonate your beer you have two choices. You can just add priming sugar, as with bottling. Just make sure to not put your keg in the fridge yet! It's too cold of an environment for yeast to be fully active.
You can also force carbonate. Draft Brewer actually sells a full setup with CO2 regulator, party tap, and liquid/gas disconnects. Everything you need…except a big ass CO2 tank.
I'm guessing if you want to keg just a single gallon of beer, you're looking for minimal space requirements, right? A much better solution will be to get a mini regulator with some gas cartridges. Here's what you'll need:
You can see approximately what that looks like here:
PicoBrew Keg (1.75 Gallon)
PicoBrew makes an all-in-one countertop brewing system that does 1 gallon batches, so it makes sense that they have their own 1-gallon keg. Actually, it's another 1.75 gallon keg though.
It's a nice looking keg, with good reviews. It's got that traditional corny keg look with the rubber bottom and rubber handles on top. However, I'm actually not a huge fan of the rubber handles. They get in the way when you are trying to wrench down or take off posts. The cannonball setup is much more user-friendly.
These rubber grips will be easier to handle though, and if you're going to be pulling this thing in and out of your fridge, that's worth something. Size-wise, it's about the same height as the Cannonball.
Kegco 1-Gallon Keg (1 Gallon)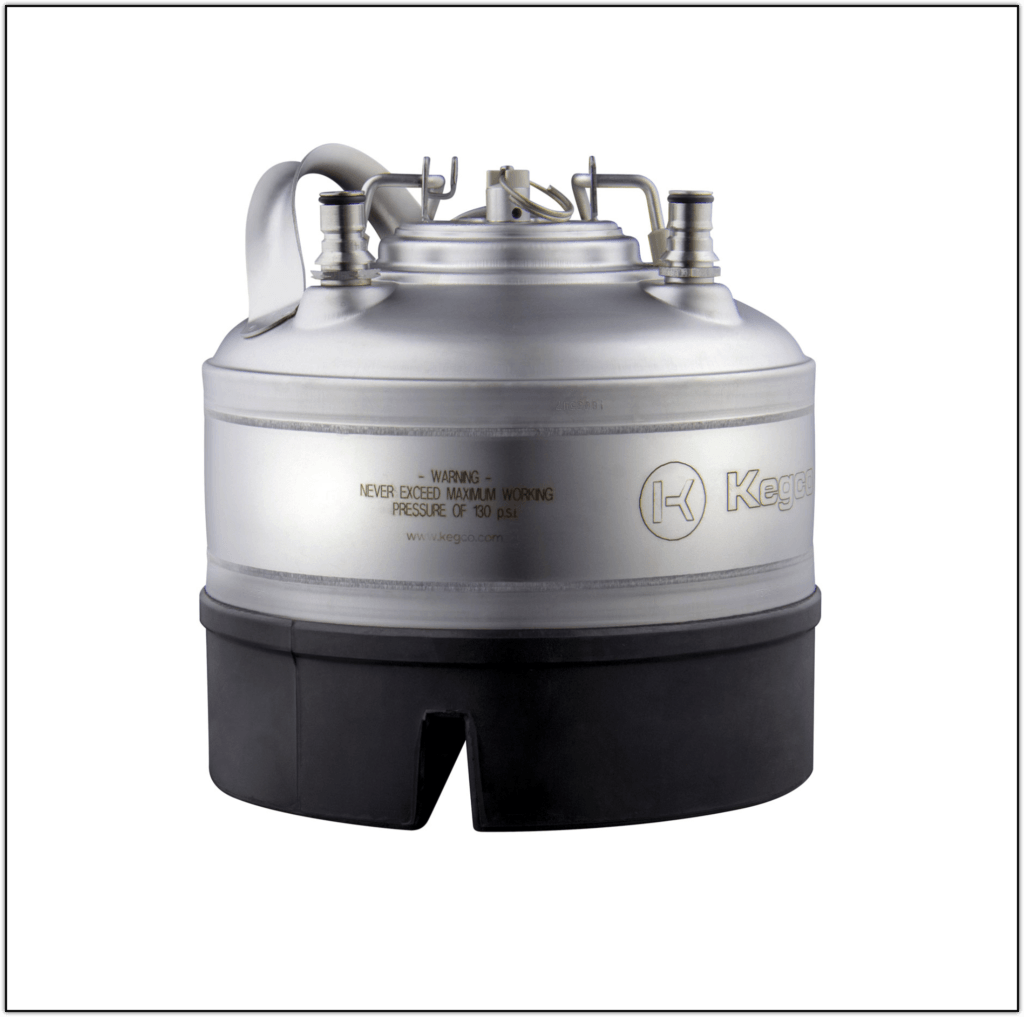 This keg is so small, I'm almost skeptical that it exists. This seems to be the only true 1-gallon corny keg on this list. I've never seen one of these in person, and there's only a few select websites where you can buy them, including Kegco's site.
According to the size specifications, it's about 9.5 inches tall, which is in fact shorter than their 1.75 Gallon version, which is 12 inches tall, so this truly could be an exactly 1-gallon size keg.
It looks like it uses just regular in/out posts like all other corny kegs. This could be a good choice if you have a collection of other size corny kegs, and you want to use this one with your current draft system. For example, I have a six-tap kegerator, and could easily plug in my 1-gallon SMaSH experiments using this.
1.75 Gallon Ball Lock Keg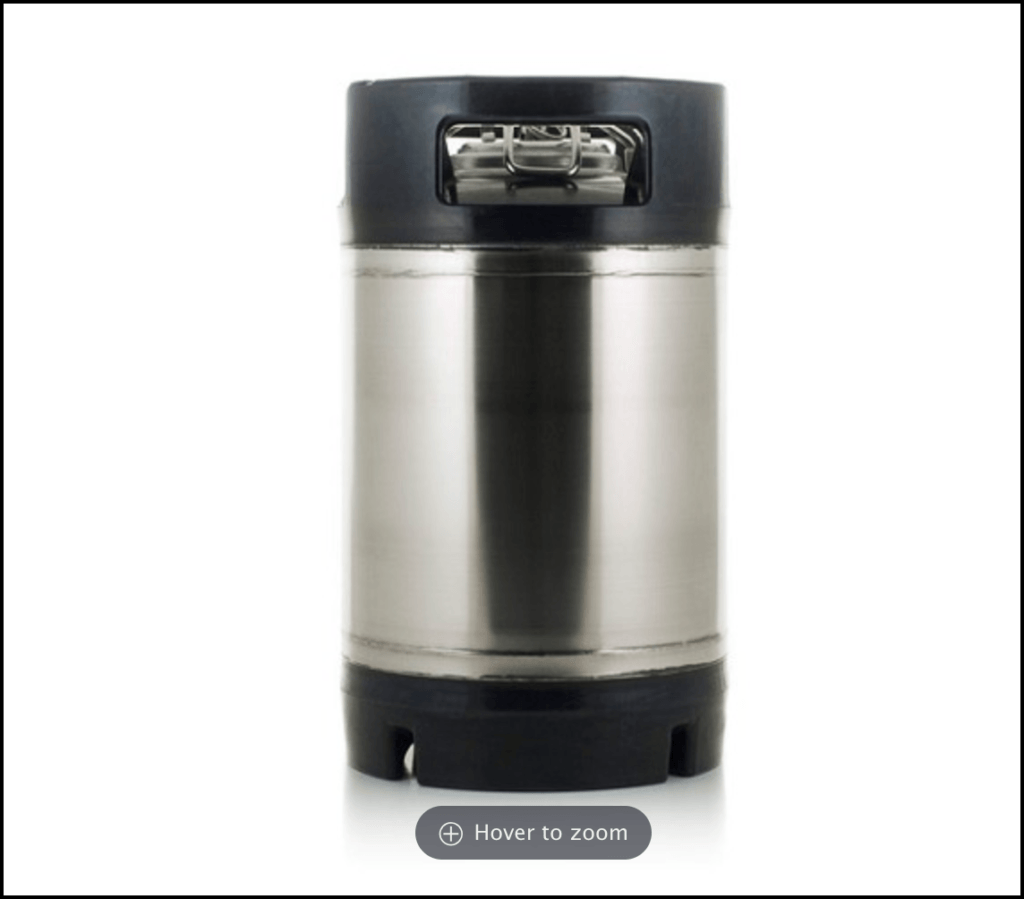 Traditional look and function, this 1.75 gallon ball lock keg is a great contender for your single gallon brewing. Rubber handle and bottom means you'll damage your kegerator and hands less, but it is kind of a pain to remove the keg posts with a standard wrench.
This keg is much more widely available than some of the other specialty kegs on this list.
Big Mouth Modular Keg (1.75 Gallon)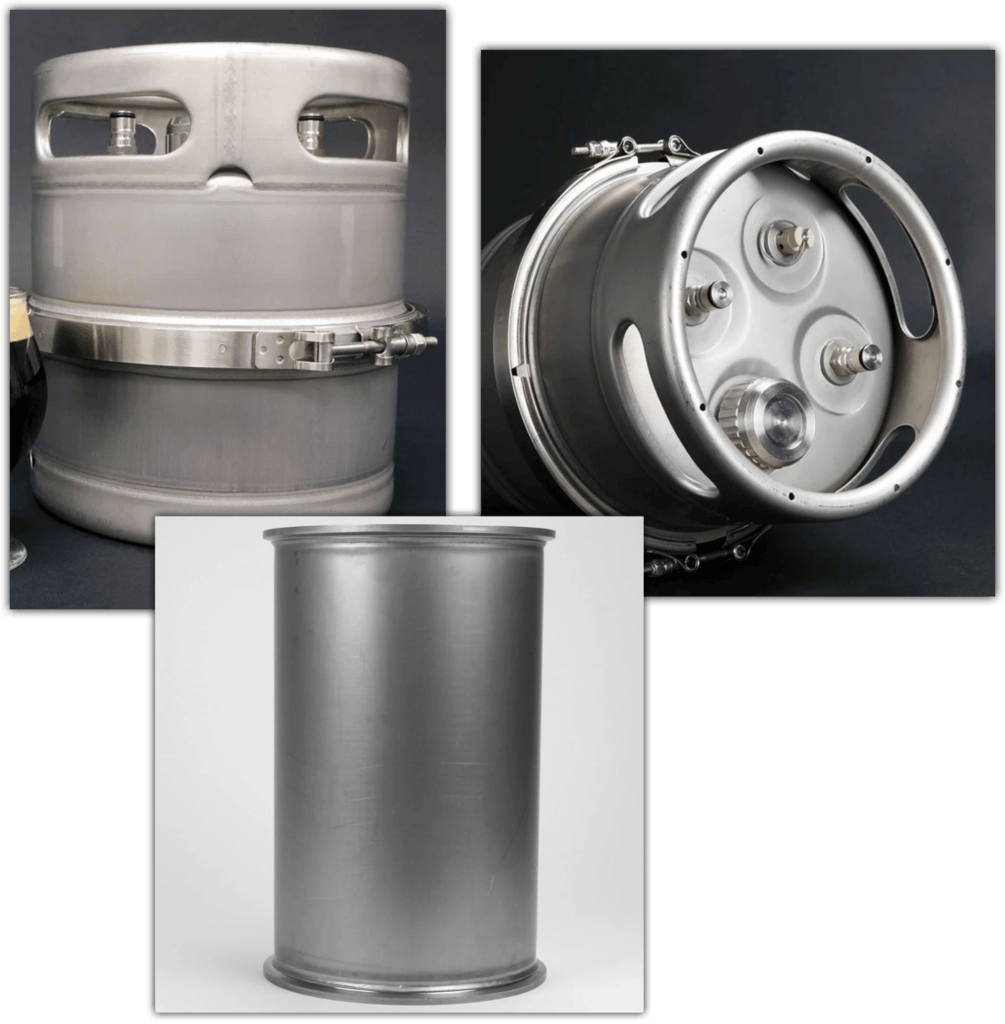 The 'Big Mouth" modular keg from Northern brewer is an interesting choice. The 1-gallon unit (actually holds 1.75 gallons) is sold separately from an "extension" unit, which can be used to expand the keg capacity to a full 5-gallon corny keg.
This would be a perfect option for someone who wants to start small, then graduate to a larger size later, or someone who brews varying batches of beer. For example, maybe you brew a test 1-gallon batches to get your recipe down, then brew a full 5-gallon batch of it.
It definitely looks cool, but a lot of folks are skeptical of the seals lasting, and buyers on the NortherBrewer comment section did in fact have trouble with the locking system for modular parts. More parts = more stuff to break.
The main complaint about this setup however, is the price. Currently, it's listed for $104, on sale from $160, so who knows what it normally sells for (don't you hate those fake sales?).
Since you can get a lot of other 1-gallon kegs for less that $100, with free shipping, it's a big price to pay. When you factor in the modular middle-piece unit price of $55, that balloons this 5-gallon keg setup to over $150. You can get a brand new 5 gallon keg for around $75-$120, and a reconditioned one for under $50.
Still, it's a cool device, and would be an interesting addition to a 1-gallon brewer kit.
Growler Kegs
Though some of these are designed to look like kegs, I've labeled them "growler" kegs, because, well, they're different. With these, you won't need the typical liquid/gas disconnects, and most are set up so you can serve directly from the keg, rather than use any beer or gas lines.
These are all 1 gallon (128oz) systems. They come in a variety of shapes and colors, and the CO2/Faucet system for each is slightly different as well. All take threaded CO2 charges.
Pros & Cons of 1.75 Gallon VS 128 Ounce
With 1.75 gallons gallons, you have more head space for your one gallon brews. That means you could potentially ferment, age, or lager in this vessel. You could add other things like juice, honey, fruit, or even blend your beers. Dry hopping? Yes please!
More head space can mean more oxygen too, and oxygenated beer can quickly degrade in quality. With a single gallon, it's probably not a huge issue, but it's something to consider
With exactly 1 gallon capacity – that's all you got. A gallon. No room for additions. No room for head space to carbonate your beer faster.
However, if you brew a gallon of beer, you'll lose a bit from trub, yeast, hop material, and maybe extra liquid if you spill. So you final "clear beer" will be a little less that one gallon, which leaves head space for the CO2 to carbonate your beer whether you naturally carbonate or force carbonate.
It also means less space taken up in your fridge!
Keg Smiths 128 oz Portable Draft Keg System
128 oz is a gallon. No need to do the math. That's also about 8 pints. In all, you'd probably get about 7 once you account for trub loss and testing your carbonation over the next week (who can really wait?).
Though this brand is called Keg Smiths, you'd think that they'd have the best portable keg around, but as it turns out, the Nutrichef one below is getting better reviews so far. Though there are plenty of happy customers with this one, the main complaint is the seals leaking.
This comes with a faucet and the gear you need to connect to the keg, but no CO2 cartridges.
NutriChef Pressurized Growler Tap System
Though you'd normally associate Nutrichef with things like rice cookers and crock pots, I guess they do a pretty good portable keg system as well. It's made of heavy duty stainless steel, and there are no complaints about the pressure regulator, which is common with these types of "mini" systems. Good reviews all around.
You get a tap, keg connector, and CO2 regulator with this setup, but don't forget the threaded CO2, as with many of the other small keg options on this page so far (and more to come!)
SuperHandy 1 Gallon Growler
Normally I wouldn't recommend carbonating your beer in a growler, but this one is stainless steel, and with the CO2 cartridge attachment, I believe it should be just fine. With typical growlers, I'd worry about overcarbonation issues that might break the glass, pouring beer all over your fridge and making a huge mess.
So even though the cap can be used with other gallon-jug growlers, even the glass ones, I wouldn't recommend pressurizing them.
The growler doesn't look at cool and professional as a regular keg, but you get the added benefit of insulation this product. They claim that it only loses 4 degrees over 24 hours. Plus, you can take this to a party and not look like a complete dork with your hipster homebrew.
GrowlerWerks uKeg
The GrowlerWerks uKeg is one of the most popular and most well-known pressurized growler keg systems online. You see this baby advertised everywhere. It just looks cool! Plus, it comes in three colors – stainless steel, copper, and black chrome.
If you want to give a gift to the homebrewer in your life, this is my personal #1 recommendation. Why? I love the look, and love the idea, but I'd never spend this kind of money on something like this for myself.
It's a bit pricey.
On top of that, there seem to be a number of complaints about seals leaking, or some of the parts being attached incorrectly out of the box.
Regardless, the vast majority of buyers love the product, and report fresh beer being poured over the course of many days, with perfect carbonation.
A couple of cool things about this particular pressurized growler is that you have a "sight glass" to see how much beer is left, and it comes with a stylized beer faucet, rather than a party tap.
Last bit of advice on this one. If you're buying it for someone, casually ask what they think of Steampunk. If they hate it, don't get the copper version. It looks very Steampunk-esque, which is a divisive design. Personally, I think it's cool, but I'd actually get the black chrome one. You don't see a lot of growlers with that color scheme!
Nitrogen Beer 1-Gallon Kegs
Setting up a 5-gallon nitrogen system is a pain in the ass. I've tried. I mean, the system basically works the same, but you need a different gas tank for the 70/30 nitrogen/carbon dioxide split. You need to carbonate with CO2, then serve on the gas mix.
I just don't have enough room for that with my setup.
That's why I like these mini nitro kegs. I do a 1-gallon recipe for a dark beer (best beer on nitro IMO), then have a week's worth of creamy, chocolaty, smooth beer ready to go in the fridge.
I haven't tried this yet, but I really want to get a couple of good stouts from the store, pour them into one of these nitro kegs (careful not to oxygenate too much), and see if that works. Imagine Belching Beaver's Mexican Chocolate Peanut Butter Stout on nitro. Yum!
GrowlerWerks uKeg Nitro
Personally, I'm a huge fan of the original GrowlerWerks uKeg system, so I'm glad they decided to make one especially for nitrogen. Unfortunately however, this isn't actually ideal for beer. The nitrogen cartridges fit inside the keg, so to carbonate, then serve on nitro, you'd have to be opening up the top multiple times, taking stuff apart, and risking contamination.
This is a very cool looking system, so it's a bit disappointing that they didn't make it dual-purpose for beer and coffee. It might work, but you'll have to fiddle around with it to figure out a system.
Royal Brew Nitro Keg Kit System
Made for coffee, but it works with beer too. This nitrogen tap system is much more beer-friendly since the cartridges are loaded on the outside of the keg.
Royal Brew has both a 128oz and a 64oz version, in either black or stainless colors. This design is a bit fancier than some of the other keg system on this page because the carbonating cartridge is hidden in a casing you can twist on/off.
The instructional video says to use 4 nitrogen cartridges for coffee, but for beer, you should carbonate normally with CO2, then serve with nitrogen. For nitro beer, you'll need Whip-Its for you nitrogen charge.
Nitrogen faucet with restrictor plate included!