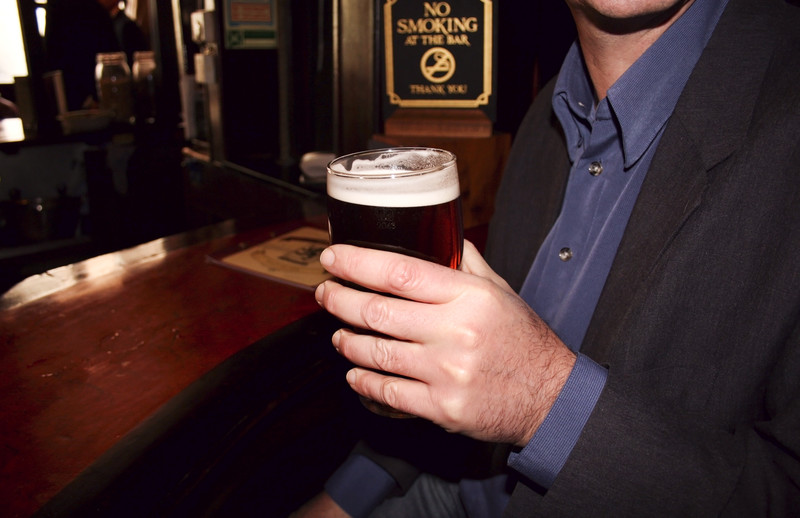 A real ale is all about real flavor. No preservatives. Just the unadulterated taste of beer. And, it is quite something.
A real ale is made of traditional and natural ingredients like barley, yeast, hops, and water, just like any other beer. What's notable about it is that it does not use any external source of carbon dioxide. The tasty beverage ages through fermentation in the very cask from which it is dispensed. Real Ale is a true British delight and is hardly available anywhere else. Even in the UK, it is only available in select pubs. But, wherever it is available, it is nothing less than a celebrity.
I've recently begun to experiment making "cheat" real ales at home, doing the best I can with my homebrew equipment. I built a beer engine (post coming soon), and am currently fermenting a low gravity stout that I plan to naturally carbonate and pump from my engine. I'll have to add some artificial carbonation to prevent the beer from oxidizing, but more on that in a future post.
Although I haven't personally been yet, here is the list of the best real ale pubs in the UK that I was able to find online. These would make up my list of "go to" places for for trying a real ale if I ever make it over to the UK.
Best Real Ale Pubs in The UK
1. Old Peacock Real Ale House & Kitchen
Leeds is a popular city in the northern part of the county of Yorkshire and is home to The Old Peacock, a famous real ale pub. The beverage is central to the pub's fame. This pub features a happening beer garden. Their real ales are sourced from the popular Ossett Brewery, which has won multiple national honours. Most notably, they have been awarded the prestigious Supreme Champion Beer of Britain at the SIBA Awards for their flavourful and strong brew, Excelsior.
The Old Peacock usually stocks eight creations from the brew masters. Four of the ales – Excelsior, Silver King, Yorkshire Blonde, and their very own, Peacock 1919 Bitter, enjoy a permanent home on the menu. However, the remaining four spots are up for the grabs. So, you will always find a new real ale to enjoy at this pub. As it is located opposite the Leeds United FC, game days are a huge thing here. Due to the high footfall they register during the game days, they only offer the 1919 Bitter and the Yorkshire Blonde.
USP: Award-winning real ales & a great place to enjoy football
Address: 251 Elland Rd, Churwell, Leeds LS11 8TU, UK
2. Automatic Cafe & Malt Real Ale Bar
This hip pub is situated in the town of Bury in England. The bar and restaurant has great aesthetic appeal and ambience. The glass wall gives a stunning view of their beer cellar. They have their own brewery in the town called the Silver Street Brewing Company. They have four real ales on tap and you can enjoy them sitting in this cosy and vibrant pub. It is a lovely experience and easily the best pub in the Bury area.
USP: Ambience and the beer collection
Address: Market St, Bury BL9 0BW, UK
3. Real Ale Classroom
The first micropub of Leicester, the Real Ale Classroom is definitely a place every real ale lover should visit. All their beers come directly out of a cask. They have other beverages on offer too, but it is the real ales that keep the guests pouring in. Their real ales are sourced from breweries all across the UK.
To give a fair chance to each cask ale, they keep rotating their menu. On some days, you may find a floral Beat Box, while on others, you might find yourself sipping away a rather strong Thrupenny Bitter. Other ales include Wild Woods by Tapstone, Harry & Marv by Tiny Rebel Brewing Company, and so on.
USP: No music or electronic devices make it a great place to have good conversations and of course, their dedication to the cause of real ales.
Address: 22 Allandale Rd, Leicester LE2 2DA, UK
You can also carry the real ales home with the custom designed containers. A great idea for a house party. The good news is that they have recently opened another micropub in Lutterworth too.
4. Weavers Real Ale House
In the busy town of Kidderminster, just down the railway station on Comberton Hill, there exists a small and warm pub called the Weavers Real Ale House. Although it's just a single-room micropub, it has been decorated as the West Midlands Pub of the Year in 2017 and is definitely one of the best in the UK. There are 8 real ales for the patrons to try here. The pub's owner, Dean Cartwright, brews the house ale, Unbeweavable, in a brewery just around the corner.
In addition, Three Turns XXX and Wye Valley are the two other regular beers on the menu. The rest of the menu keeps changing depending on the demand, season, and taste of the owners. Don't miss the pork pie and the cheese rolls while you are there, or you can get the famous Captain Cod fish & chips just down the road. Bring it back to the ale house, and enjoy it with your real ale. Yes, they allow that! By the way, it is a dog-friendly pub too.
USP: The outdoor seating with a pint of tasty real ales. Allow outside food and dogs!
Address: 98 Comberton Hill, Kidderminster DY10 1QH, UK
5. Arkwright's Real Ale Bar
On the Campbell Street in Belper, you will find this interesting real ale pub. It is the only pub in Central Belper to appear in the Good Beer Guide for two consecutive years 2016 and 2017. They do not have a fixed menu for real ales, which is great. Every time you visit Arkwright's Real Ale Bar, you will be greeted by fresh ales. The pub feels strongly about supporting local businesses. So, each of their real ales are sourced from local breweries, including Whim Ales, Amber Ales, Full Mash, Dancing Duck, Bradfield, and others.
USP: Their commitment to the cause of locally brewed real ales
Address: 6 Campbell St, Belper DE56 1AP, UK
Honorary Mentions!
3At3 Real Ale & Craft Beer Café: Huge collection of real ales from local breweries
Real Ale Corner: An award winning establishment with over 150 bottled ales supplied by UK's best microbreweries
Dr Phil's Real Ale House: An ever-changing selection of real ales. Was awarded Yorkshire's Pub of the Year in 2015