The list of beer styles continues to grow over time, particularly as people experiment with new approaches and types of beer. As brewing has progresses, certain styles of beer have become more popular and prevalent within the mainstream. For example, an IPA used to be an IPA. Now there's:
English IPA
American IPA
West Coast IPA
Double IPA
Triple IPA
Black IPA
Belgian IPA
Red IPA
White IPA (same as Belgian?)
Brett/Sour IPA
While some beers are enjoying new categories within themselves, others are being revived! Some old and rare beer styles are being brought back from the (varying degrees) of dead. For example, Dogfish Head released their Ancient Ales series a few years ago, with a new take on long-forgotten fermented recipes from Ancient Egypt, Italy, Denmark, and more.
Other breweries (see below) haven't gone back quite as far, but are brewing new versions of several-centuries-old styles from Europe, namely Germany, Poland, and Belgium. Some attempt to stick as closely as possible, essentially reviving it as it was brewed back in the day, while others use a loose interpretation as a foundation to create something entirely new.
Keller Bier
This is a unique style of German beer that is relatively old and rare. The beer is smooth, has high hop bitterness and is naturally cloudy. This beer consists of unpasteurized and unfiltered lagers that have been brewed since the Middle Ages. Maturation of the beer achieved in deep vats where the beer is exposed (unbunged). A comparable type of beer is Zwickel Bier, which has a similar, but less pronounced flavor.
West Country White Ale
This ale is one of the oldest styles of beer known and has British origins. The beer was produced in Devon and Cornwall until around 1875, with production starting in the Medieval period, if not earlier. The hallmark of this beer style is its 'natural fermentation' and the use of wheat and eggs.
Gale Ale
Another British ale, this beer was significant because of its use of sweet gale (Myrica gale) as flavoring for the beer. This ale also included other herbs for flavoring, including rosemary and yarrow. However, this beer largely stopped being produced in 1711, as an act made it illegal to use these ingredients in brewing ale. A few modern beers make use of sweet gale but there remain strong differences between these and the original gale ale.
Other Historical Beer Styles (Added as I find them)
Swankey (American)
Poor Richards Ale (American)
Gruit (pre-beer fermented beverage)
Kottbusser
Steinbier
Sour Beers
One of the most unique aspects of sour aged ale is the amount of time required to brew the ale. Brewing the ale involves holding back a proportion of the brew from each year to add to the fresh brew for the next year. This practice is continued each year, creating a beer that is much more complex and has more depth than traditional beers.
It's hard to for homebrewers to break into brewing sour beers because it often requires special (or at least dedicated) equipment. Bacteria from these beers can easily infect non-sours through unsanitary beer lines, connections, or even just by being open in the same room. Also, because of the time it takes to actually make one of these things, homebrewers often lack the space to temperature control fermentation for a year or more.
In addition, some of the most widely known sours are actually blends of new/old brews. An example is Old Bruin Flanders Brown. The lactic sourness of a pure sour brew is unpleasant to many, so it's blended with a newer (non aged) version of itself to achieve its intended flavor.
There are many types of traditional sour beers, and some of these styles you can still find in your local bottle shop (most likely a Bevmo or Total Wine type store)
Berliner Weisse (German)
Kentucky Common (American)
Gose (German)
Flanders Brown (Belgian)
Flanders Red (Belgian)
American Sours (Varies)
Oud Bruin
Lambic
Gose
Gose is making a comeback in a big way. I had one from Anderson Valley the other day, and read in one of my magazines that there's a place using Gose as their flagship beer (can't remember which one). The best example…ehem, my favorite example was the Golden Gate Gose from Almanac Brewing.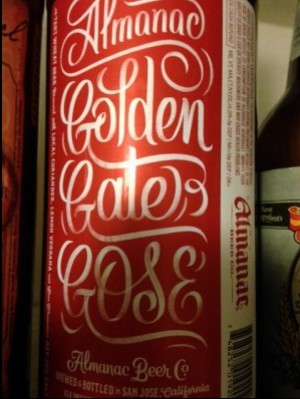 Goses are brewed with salt and coriander, and have a very tart sourness due to being fermented with lactobacillus. From examples I've had, tartness can vary from a soft afterthought, to a level that makes it unsessionable. The malt bill is at least 50% malted wheat. The other 50% I've seen done with 2-Row and with pilsner malt. The finished beer should be dry, slightly salty, and tart with low noble hop bitterness.
American Sour Beers
American sours are also becoming extremely popular, though I can't think of any really defined styles. I think the fact that they are just sour beers produced in America and don't fit any other style guideline makes them an American sour. Pretty much anything can be combined with brettanomyces or other types of wild yeast for an interesting flavor (interesting doesn't always mean good).
Sour beers are made with a variety of wild yeast from local areas, different strains of brett, as well as lactobacillus and pediococcus. Some breweries are doing awesome things with the style like The Rare Barrel, Jolly Pumpkin, Anchorage Brewing Co, Side Project, Crooked Stave, Sante Adairius Rustic Ales, and there's even a dedicated radio show called the Sour Hour.
Grätzer
Also known as Grodziskie (Polish), this beer has some very unique…everything about it. First off, the main malt used is oak smoked wheat! When have you ever had a beer with oak smoked wheat malt? It's a very low alcohol beer with distinctly Polish ingredients including Lublin hops and neutral Polish ale yeast. Historically, there were supposedly a blend of two types of yeast, but this style hasn't been popular since the 15th century so a few details have been lost.
For the homebrewer, there's a Gratzer recipe here. For the craft beer drinker, the only commercial example I know of is the Gratzer Ale from New Belgium and Three Floyds. They added midnight wheat and changed the color of the beer from golden straw to quite black, and also added a lacto-sour element to it, which I don't think is typical of the style.
Note: The high magnesium content of the water where it originates supposedly gives it a sour or bitter flavor according to this website referenced by Wikipedia, but I'm not sure that the "sourness" provided by magnesium would be the same as sour provided by bacteria. I guess the version from New Belgium is just one interpretation!
Please let me know any forgotten or lost beer styles you've heard of in the comments!
photo credit: Bernt Rostad
[social-bio]