Update 2017: Several commenters have noted that using the App is much more efficient than emails, as I describe in the review below. I had a smartphone at the time, but somehow missed the notice that there was an app. Anyway, just keep that in mind while reading my review of Tavour. I will try the app again in the future and update the review, but for now, I'm paying for the Rare Beer Club, so am going to rock that membership for a while.
Tavour popped onto my radar a few months ago after untapping a beer on the Untappd app. It's pretty hard to ignore $10 in free beer, so I went to their site to check out what kind of selections they have.
Things got off to a rocky start.
I was unable to actually view any beers without handing over my email address. I was also a bit unclear about their ordering system and why they set it up that way. But again, I was on a mission to get my free beer and figured I could get a review of Tavour up on my blog and share my experiences with their service. So I persisted.
I'll discuss the pros and cons below, but in general here's my opinion: I was happy with the beer selections, but unhappy with the way the service is set up and my beer ordering experience was not easy.
How To Order Beer With Tavour
I honestly do not know why they have the system set up like this because it seems unnecessarily manual, but this is what you do:
Sign up for their email list
Receive daily emails of beer descriptions
Respond to the email of the beer you want with the number of beers you want to request
Wait to see if your order was accepted
Collect a number of beers over approximately 1 month, then wait for your shipment
Tavour Beer Review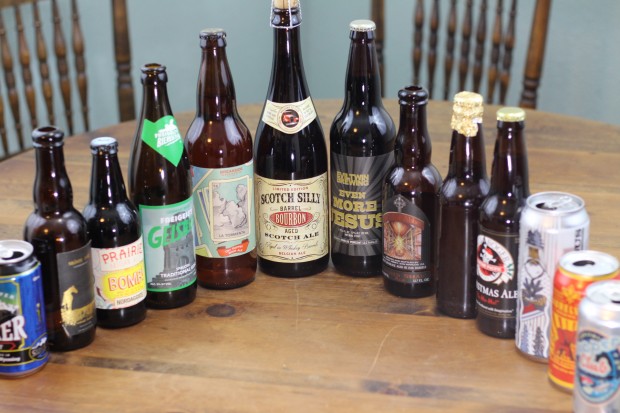 The beer selection they offer is pretty impressive in my opinion. Pretty much everything that came through my inbox was something I had never tried before. I live in a podunk town in the Central Valley, and we don't have very exciting selections here at the local Bevmo. I have to drive an hour and a half to get to another distribution area to find specialty items or unique brews.
Some of the less "rare" items I ordered were Evil Twin's Even More Evil, Capital Brewing's Supper Club, and Laurelwood's Red Elephant. These were solid beers. Actually, Supper Club was my #1 favorite out of everything I've tried so far, and would be a solid choice for a daily drinker.
A few specialty brews I purchased include Fort George Brewery's  Magnanimous IPA (with fir tips), Brasserie de Silly Bourbon Barrel Aged Scotch Silly, and Freigeist's Geisterzug Spruced Gose.
I also got a Jolly Roger from 2013 and 2014 for a vertical tasting!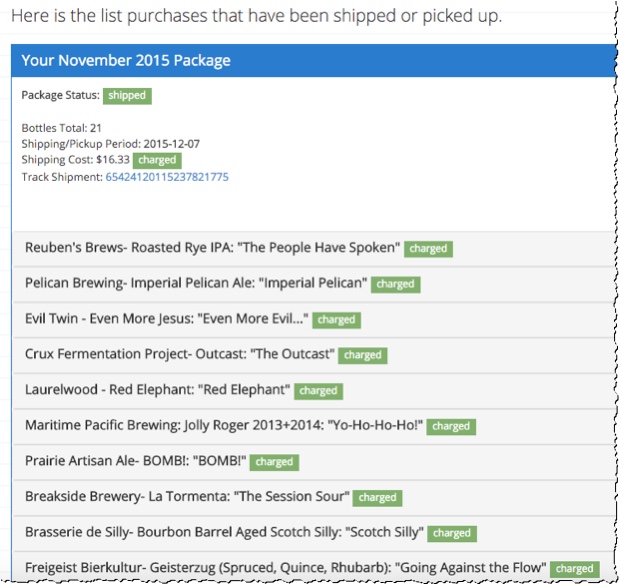 There were other beers I ordered, but needless to say I was happy with my selections. They arrived unscathed, and tasted great, although I haven't opened them all  yet.
Tavour Customer Service Review
This is where I ran into quite a few issues. The guys behind Tavour were not rude or anything like that, my impression of the company after ordering is that they seemed like a couple dudes in their garage trying to start a beer delivery company, rather than an efficient service.
First off, what's the deal with needing to respond to emails to get a beer? It seems so random to me. Maybe they don't get enough of each item to make it worth investing in software that tracks inventory?
I had several emails that were not responded to, or were responded to after more than a week. I honestly felt like I was being ignored a few times, but maybe the emails just got lost.
For example, there were big shipping problems on my order. I was totally confused about when the beer shipped, or if it shipped. Apparently there was some problem with the overnight shipping company, which is understandable, but no one told me! Here I was clearing my schedule to be home to receive the order for about an entire week, and I found out later that it hadn't even shipped yet.
Then, they couldn't even give me an approximate ship date. The package was supposed to leave the facility on the 7th of December and did not arrive until December 24th.
Thankfully, after all that hassle they credited my account with another $10 in free beer, but I certainly spent a lot more time calling the shipping company, sending emails, and twiddling my thumbs at home waiting for the package to arrive.
Of course, this was a unique situation, so I can't say that this is a continual problem, but lack of communication I feel was an underlying problem during my experience.
Other Comments
I really like the beer descriptions they write in the emails. Even though I don't plan to get another package right now, I'm still on the email list just because I enjoy reading about beer. The beer history and flavor descriptions are spot on and entertaining.
I'll admit, at first I was kind of turned off by not having an actual picture of the bottle in the email, but I've grow to prefer having a worded description. A picture is just a picture and doesn't say much about the craft beer you are going to buy! You can join their email list here and listen in!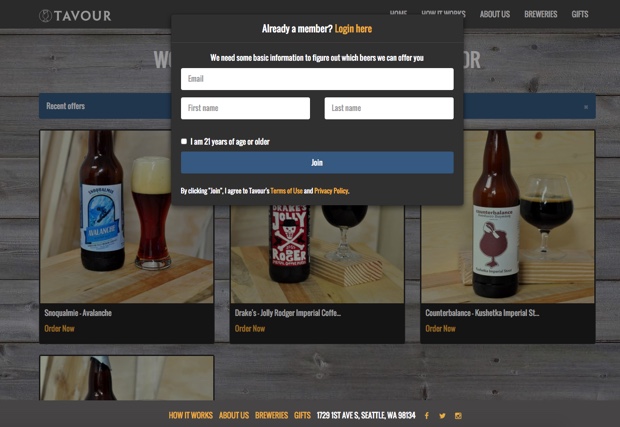 I still have a problem with the email system though. I'm lucky in that I work from home and check my email obsessively. In the beginning I lost a few good beers by not answering quickly enough, and they were sold out in a few hours.
Honestly, it kind of pissed me off when that happened At least with I view a beer online I can see "in stock" or "out of stock" before trying to get it, and avoid disappointment. With system of emailing back and forth, it seems a bit like a game of chance. Will you get the beer you want? Will you collect enough beers over the month to make the shipping price worth the cost of beer?
If you don't have continual access to email or a desire to monitor you email daily to look out for beers to buy, Tavour might not be for you.
NOTICE: When you order beers, watch out for when your box closes. It's not from the 1st-31st like you would think. There are arbitrary dates around the beginning and end of the month for when you box closes. If you order beers at the end of the month, they may end up in NEXT month's box, locking you into another month's order.
Pros
delicious descriptions of beers in email inbox daily
huge variety of beers from around the US and specialty items
more diverse selection than other beer clubs (my impression)
fun to pick your beers and send yourself a curated box
flat rate shipping!!! ($14.95)
Cons
no pictures in emails for folks that enjoy seeing what they will buy
cannot view beers without a verified account
cannot view past or future beers
requires you to monitor email daily
confusing ordering system
lack of email responses for questions
only ships to Arizona, California, Ohio, Washington, Oregon, Colorado, New Mexico
Who is Tavour Good For?
Tavour is great for someone that is particular about the beers that they want to try, and has a limited selection of brews in their nearby bottle shops. If you have time to check your email a few times a day, and like the competitive nature of quick emails getting the best beers, then you would also do well with this service.
And of course, this is an option for anyone that's tried other beer delivery companies like Craft Beer Kings, Craft Shack, Craft Beer Club, Rare Beer Club, or Beer of the Month Club (reviews coming soon!).
If you don't have time to check your email, or would get frustrated by missing out on beers you tried to order, or would rather build a box at a typical "add to cart" style website, then this might not be the best choice for you.
Would I Order From Them Again?
Yes! Although I was very unhappy with the shipping mishap, and pretty annoyed at some of my emails going unanswered, good beer trumps all. All bottles and cans arrived without a problem, and very quickly after they actually (officially) shipped. I can't wait to dig into the rest of my selections.
Want To Try Tavour?
You can get $10 in free beer just by signing up through my link. I also get $10 in beer credits, so you'll be supporting my website and and helping me learn more about awesome beer!