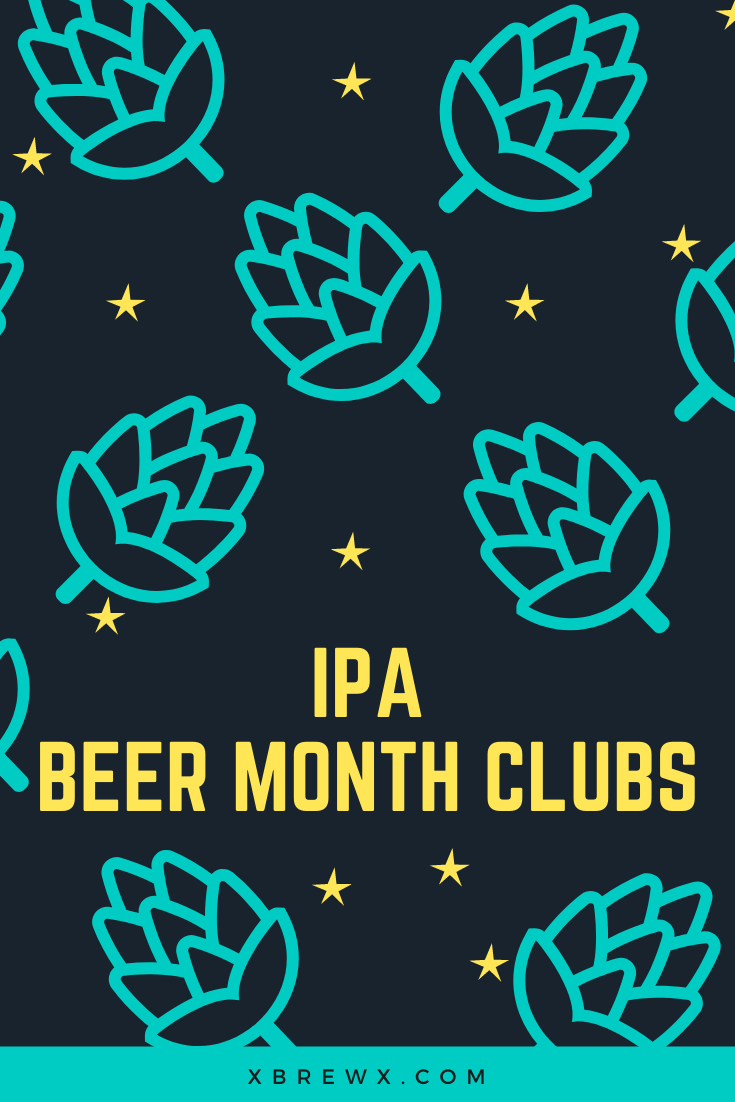 What's with all the complaining about IPAs? I love them. So much so, I subscribed to three different IPA beer clubs and I've got the dirt on which one is the best.
Hoppy American beers are controversial. Beer writers are worried that hops are giving craft beer a "bad name". World traveler and celebrity chef Anthony Bourdain thinks that craft beer should just be fizzy yellow stuff, and stop telling stories. Some even people go as far as to say that the only reason to like IPAs is to compete for who can drink the hoppiest beer.
Are you crazy to like hoppy beer? No. IPAs are delicious. And amazing.
You see, there are layers to IPAs.
As a homebrewer, I learned that there's a lot to appreciate about hops.
At the basic level, hops added at different stages of the boil (when making beer), contribute bitterness, flavor, or aroma.
Hops added earlier in the boil contribute to bitterness which balances the sweetness of the malt. When added mid-boil, they contribute flavor like mango, guava, and pine. When added late, they contribute volatile aroma which trigger olfactory senses and can remind us of not just food, but memories as well.
IPAs will even add even more stages to hopping, including first wort hopping, hop stands, and multiple stages of dry-hopping. I'll spare you the details, but consider that each option adds a different kind of hoppiness.
On top of all that, individual hops have varying degrees of alpha acids and a variety of essential oils which express themselves in familiar flavors and smells like tropical fruit, citrus, floral, and herbal.
What about dank? Not sure about that one. But I love it too.
Where the hops are grown, including soil and weather conditions, as well as their genetic origin can also contribute influence, just like the grapes that make wine.
Are you bored yet? Sorry. I'm that guy at the party…
Anyway, all of that is to say that IPAs are delicious. They are as complex as you want to make them, but to many people, they are just plain tasty. There's a lot of them to taste, and these three IPA beer clubs are a great way to get access to new and exciting IPA beers every month.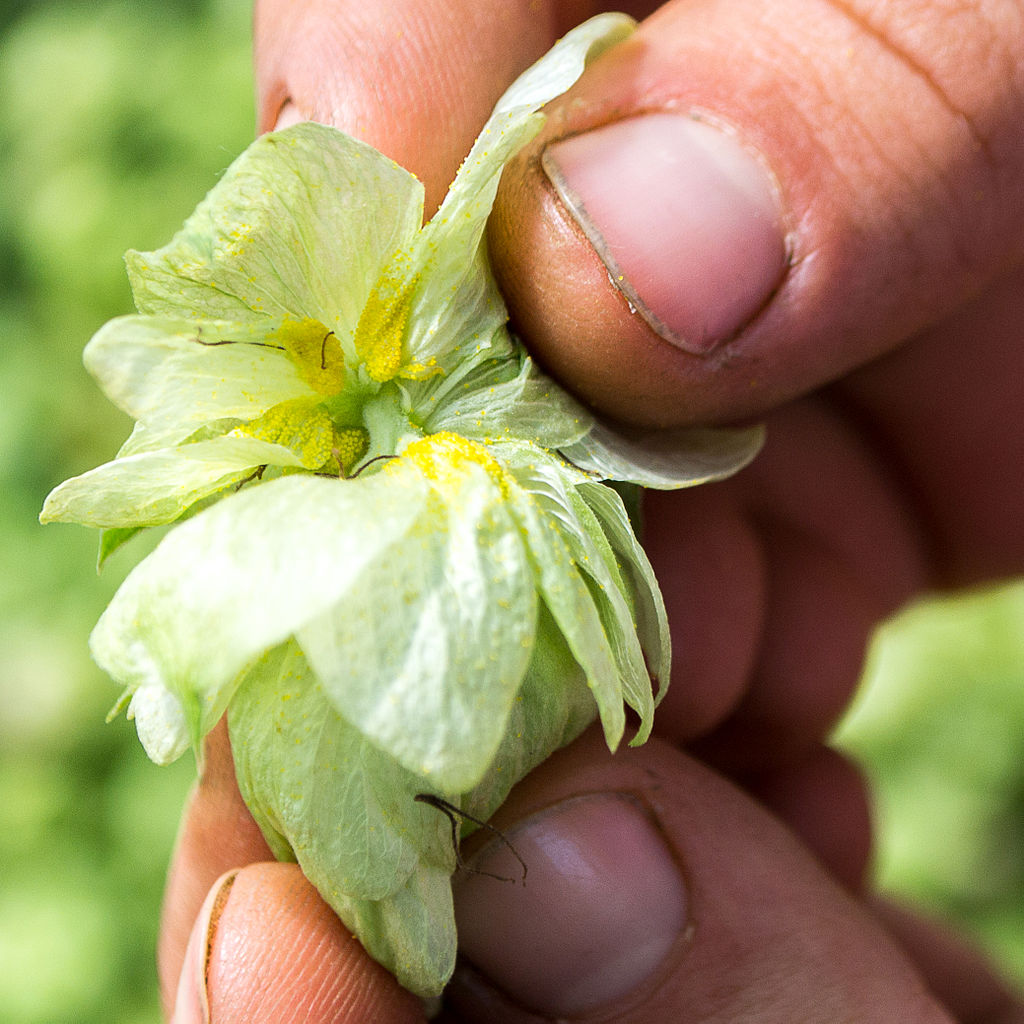 Best IPA Clubs
Hop Head IPA Club
Monthly Clubs (AKA beermonthclub.com was smart, and they actually named their IPA club…the IPA club. Everything else on this list is basically a roundabout way of getting IPAs through "mixed" beer clubs.
The most obvious thing to like about this IPA month club, is that they actually deliver classic IPAs. What a novel idea, right?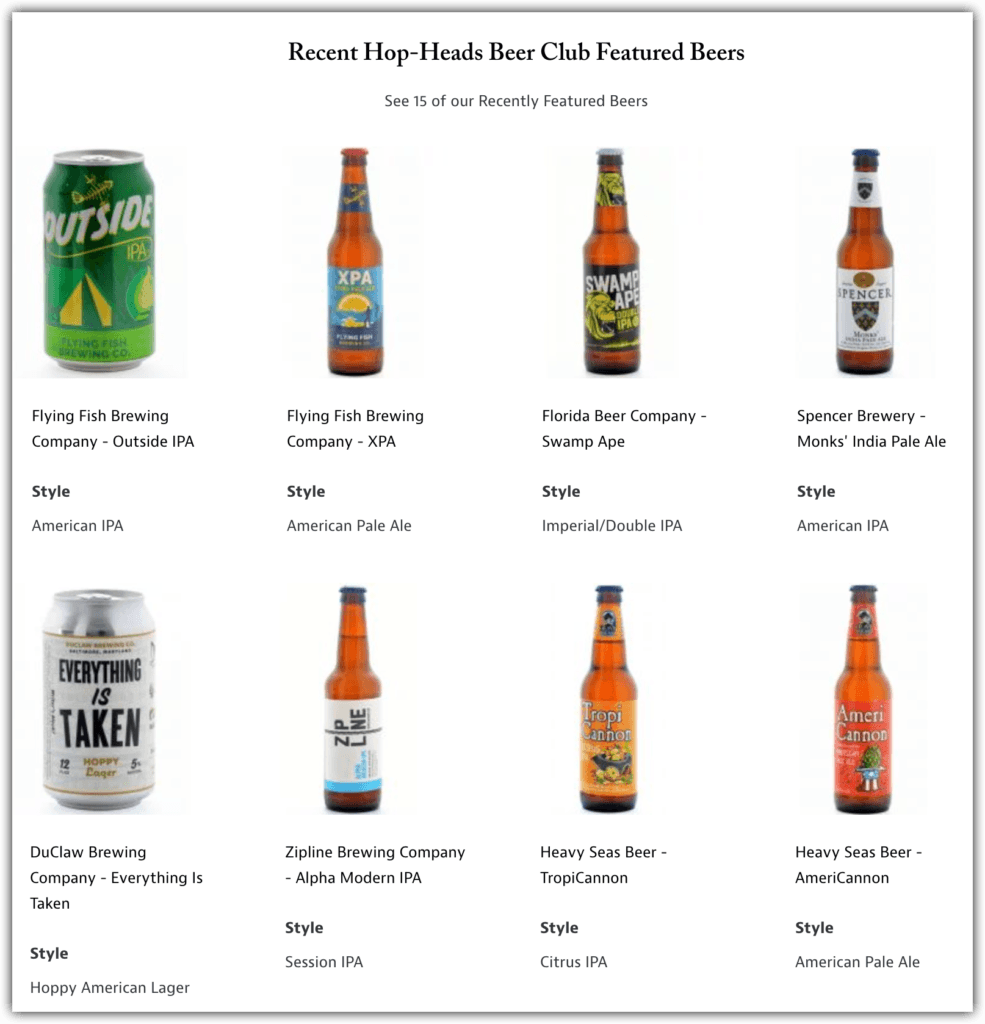 All the other IPA clubs on this list pretty much focus on the hipster trend of juicy or hazy IPAs. Not into the hazy bois? This monthly subscription box of clear beer is what you need.
Actually, I'd say they do a step better, and they send you a variety of hoppy beers, not just the face-melting West Coast lupulin bombs. You get a nice mix of classic IPA, double IPA, American pale ale, hoppy lagers, fruity IPAs, Red IPAs, and other lesser known iterations like XPA, Belgian IPAs, and black IPAs.
There are a lot of ways to use hops in beers, and hoppy-versions of classic beers can taste really good! Personally, I'm a fan of hoppy saisons. Oh and yes, you will get an occasional New England style IPA!
You get 12x 12oz beers for $50, when you count shipping. They often run discounts on the first box though
Get The Hop Head IPA Club! (Discount Link)
I haven't written a full review of the Hop Head beer club yet, but it's on the list and I'll add a link here when it's done.
Tavour
Tavour started as beer delivery service, where you could choose your own beer to be delivered each month. Actually, they still do that, and it's a pretty damn cool service.
They basically have access to some of the best and most exclusive beers from the newest and most famous breweries around the USA. The send you an app notification to your phone, and you build your box each month.
Recently, they introduced their own "curated beer box", which ships 6 or 12 beers per month to you. Though the beers are curated for you, in the app, you can choose what styles you want delivered.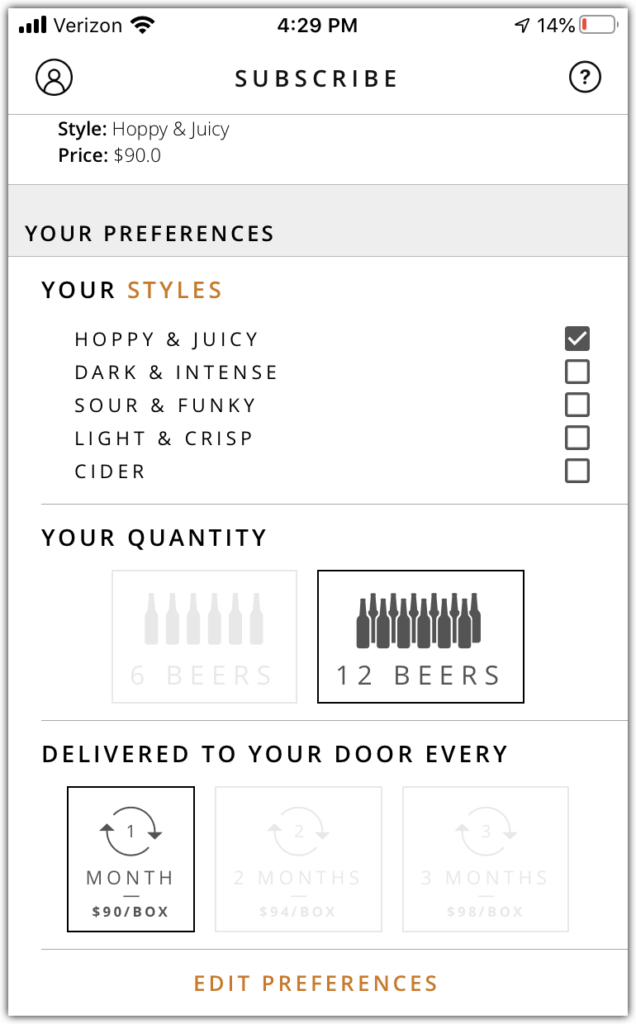 This club looks quite a bit more expensive, even with you ship the most frequent, and most beers option. It's $90 for 12x 16oz beers, so compared to the IPA club from above, you're paying 47 cents per ounce instead of 35 cents per ounce.
Keep in mind these are very trendy breweries, and some beers may be one-off brews. The premium price is there, but it just depends on the kind of club you're looking for.
Speaking of what kind of club this is, do they actually deliver good beer? Yes. They do. My first shipment was a mix of lagers and hoppy selections, but next month I'm getting all hoppy stuff to see what the mix is like.
Look at the image below. See what I mean about these being hipster beer selections? I just can't get Anchorage beer anywhere near me, and I live in California. Holy smokes. Parish? I had their triple IPA last month which changed my entire outlook on what a triple IPA could taste like (hint: not like radiator coolant).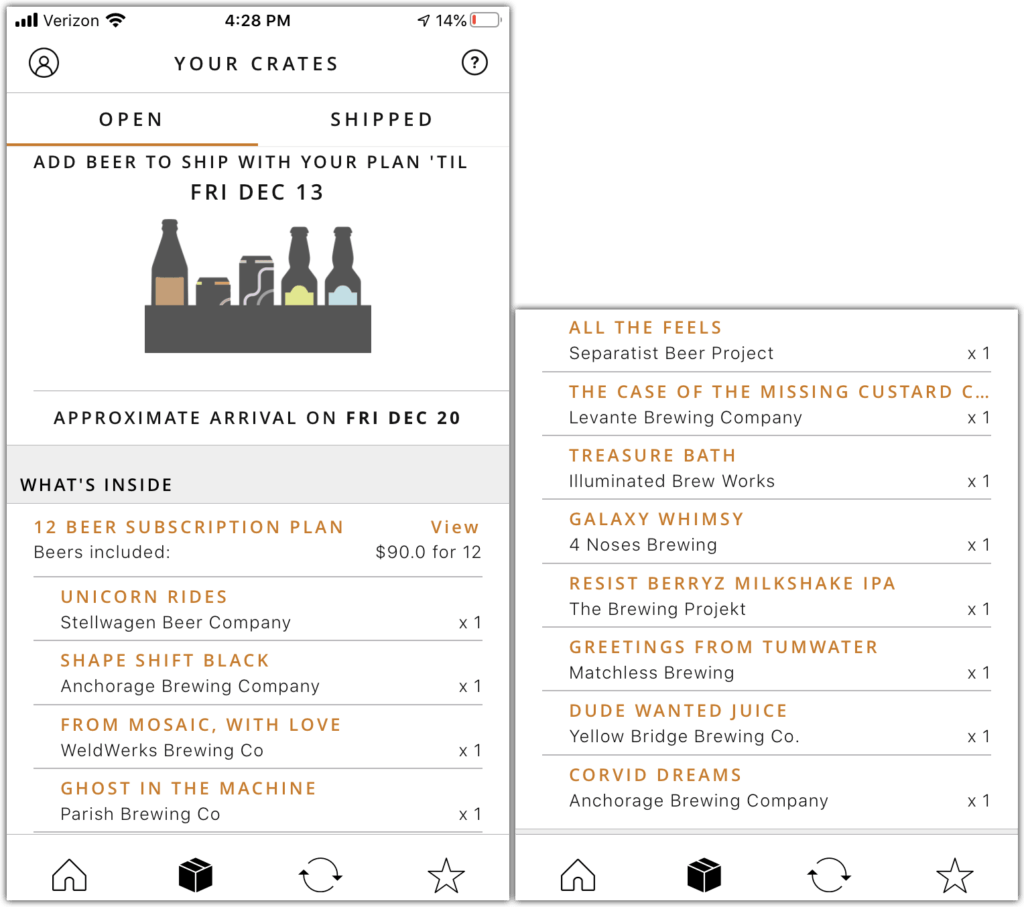 I don't know what these beers are, so we'll see. Last month, however, I noticed that all the beers were definitely of the hazy nature. In fact, I got two milkshake IPAs, which is a brand new thing where they put vanilla beans in the mix.
It's delicious. I love it. Sure, some people hate on it, but whatever. It's a unique style. Very fruity, juicy, and packed with hop flavor. If you haven't tried a milkshake IPA, it's worth the experience IMO. It's not my go-to style, but I do like them.
If you don't like hazy IPAs, then this might not be the club for you, but I like it. If you're buying a gift for someone, try the IPA gift box. A mix of IPAs for $99.
Sign Up To Tavour Here (free to sign up for an account, then pick your beers or sign up for a monthly box)
Beer Drop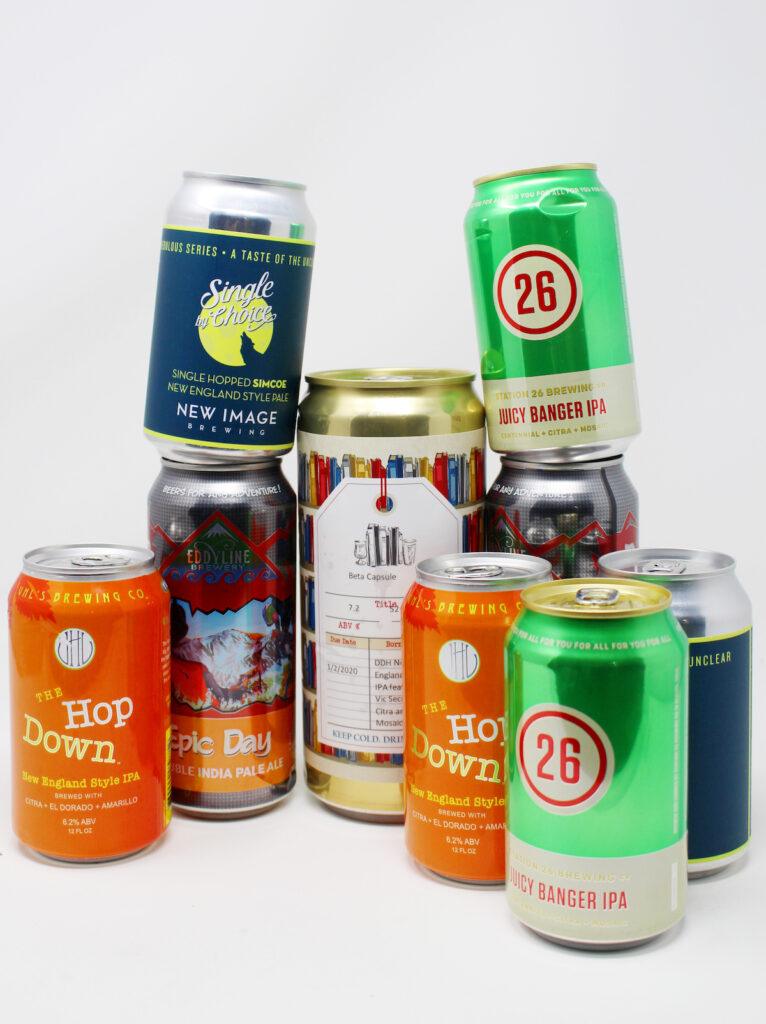 Beer Drop focuses exclusively on Colorado Breweries. While that may seem limited compared to the USA-wide selection of previous clubs mentioned, Colorado is one of the hottest spots for craft beer in the USA, so there's a TON of styles and breweries available regardless.
If they don't make a beer there, you won't find it anywhere else. Some of the newest and most creative brewers and breweries are located in Colorado, so it's a good spot to focus on.
In fact, while browsing their beer selection, I realized that there were a few more IPA styles we hadn't seen so far in the clubs: brut IPA, double NE Style IPA, rype IPA, and an actual India Pale Ale (AKA English Style IPA).
Exhausting, right?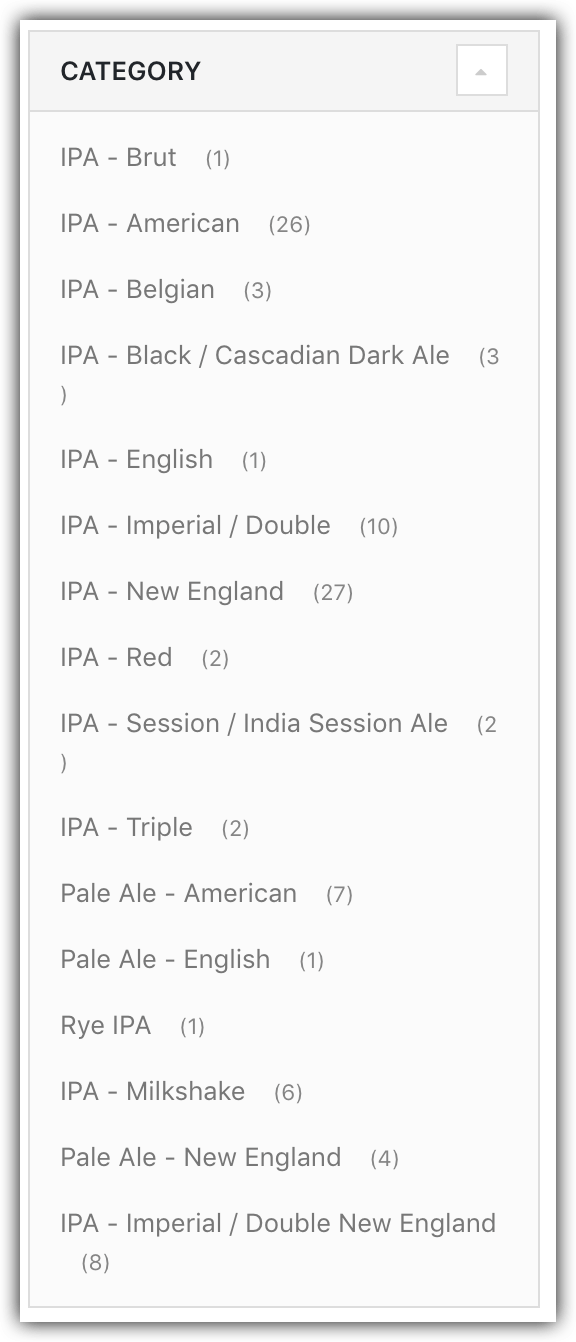 Though this company doesn't offer a specific "IPA club" per se, you can basically customize your box so it's all IPA. Here's what that looks like: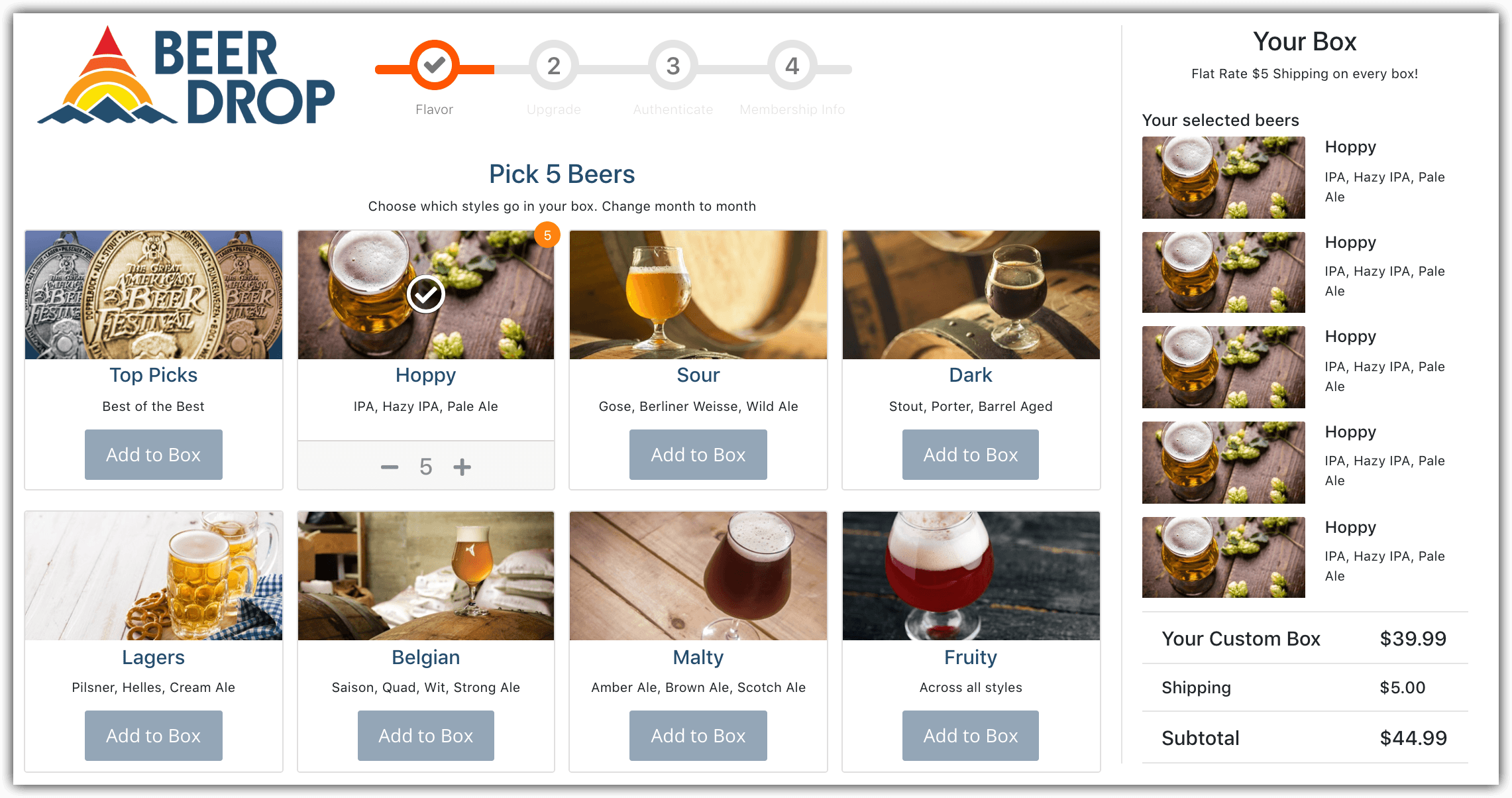 For the basic package, you get two beers from 5 microbreweries for $40 plus shipping, so that's 10 beers for $45, or $4.5 per beer (12oz). That's actually a pretty damn good price.
There are upgrade options as well. Each upgrade involves how much "premium" beer you add to to the box and how much control you have. For example the PLUS upgrade, allows you to switch out two beers for special release or taproom only beers. The ULTIMATE upgrade allows you to this with all 5 of your beers.
Both options will include a couple of 16oz cans instead of all 12oz cans.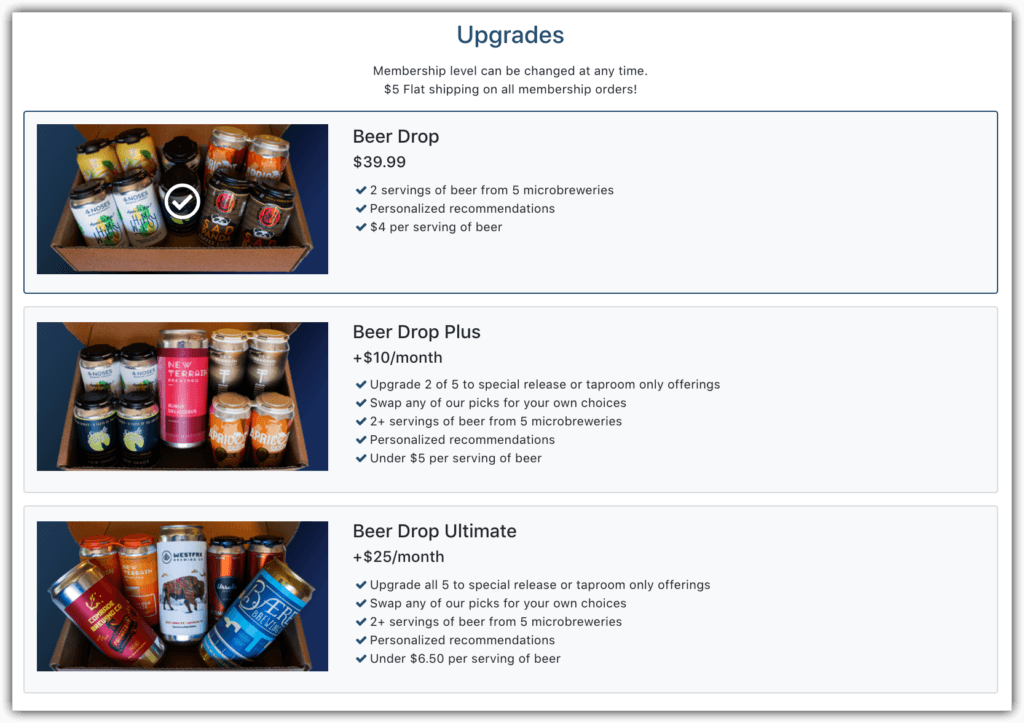 The trouble with this version of an IPA club is that the vast majority of IPAs you'll receive are hazy. Don't get me wrong, I love hazy IPAs, but there are so many more styles out there! There's only so many "juice bombs" I can drink before they start to taste a little one dimensional.
Of the shipments I've gotten so far, (almost) every single IPA was a hazy one, so keep that in mind. Update: Yes, just one was a double IPA (with no haze!).
Actually, you also have the option to add individual beers to your box as well. There are a LOT of other IPA and hop-focused beers to look through. Those prices look expensive, but keep in mind that's the price for TWO 160z cans.
You can even use the left side menu to search for specific styles of IPAs you want. I'm not sure how adding beers affects shipping rates.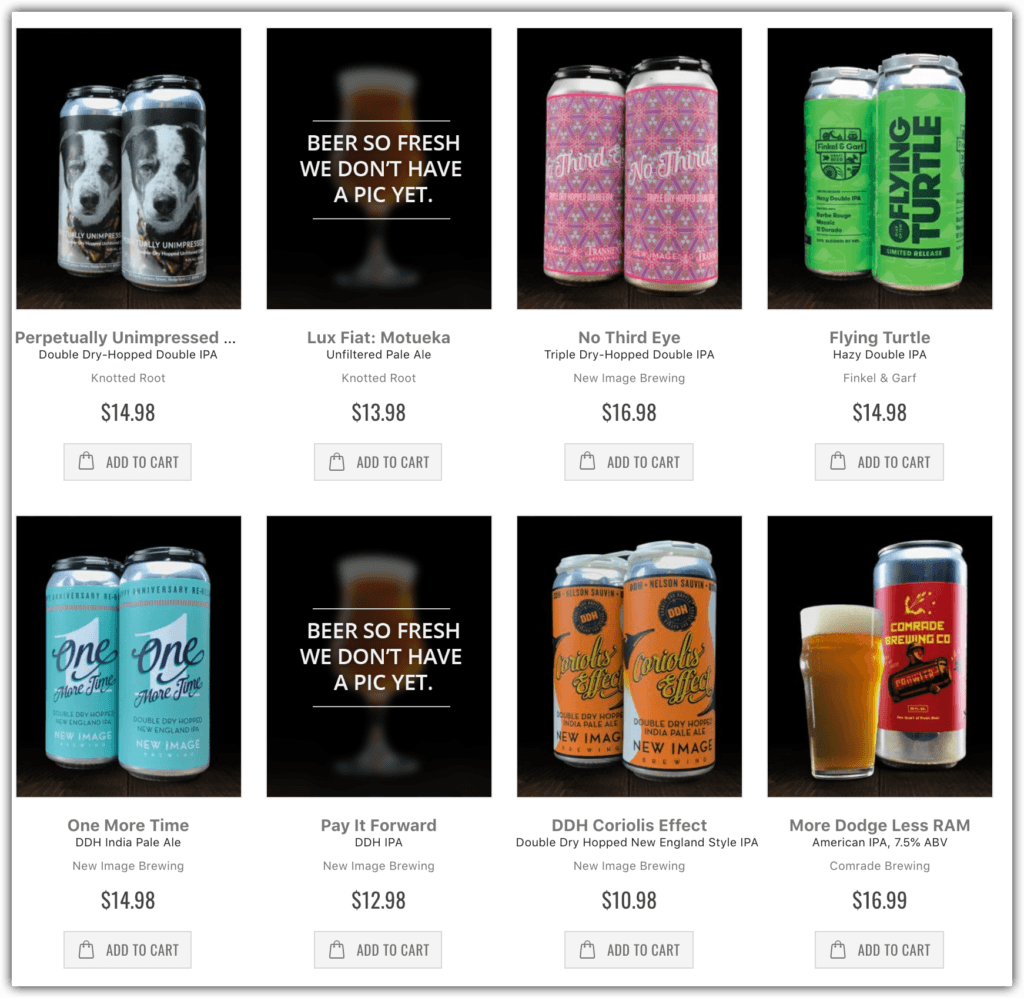 Join Beer Drop Here (add as many IPAs to your box as you like!)
NEW: Half Time Hop Head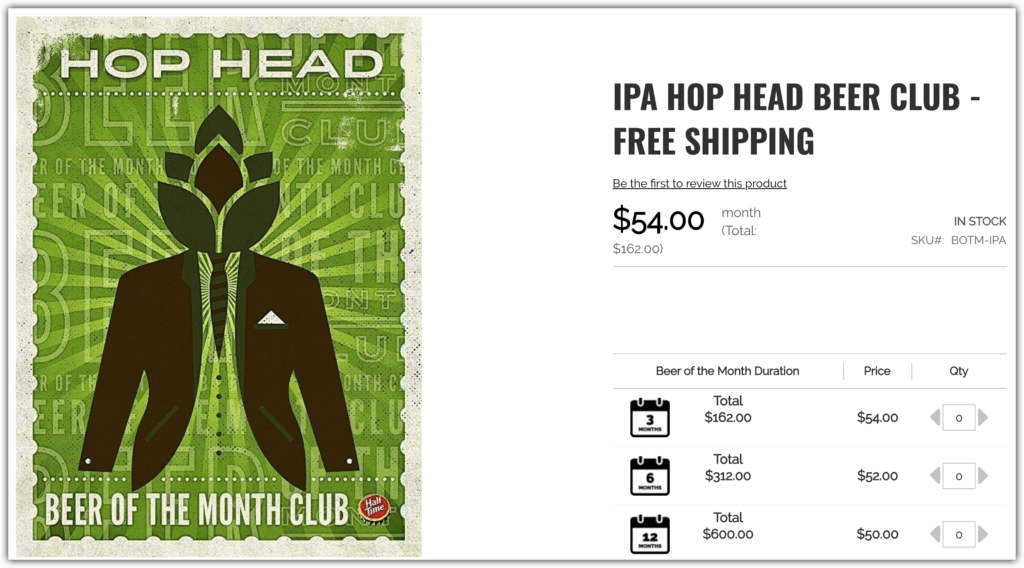 I just discovered this one a few minutes ago, so haven't done much research on it. Total $162 for 3-month subscription (minimum), and $600 for a 12 month subscription (that's $50/box).
They don't say how many beers you get, or give any examples of past beers, but they do claim to ship IPAs from around the world. Other clubs mention the number 12, so I assume it's a 12 beer subscription, with mostly USA focused IPAs.
I'm in the middle of a couple reviews of other clubs right now, so will update with pics and reviews when I get around to it.
Join: https://halftimebeverage.com/ipa-hop-head-beer-club
NEW! Craft Beer Kings IPA Club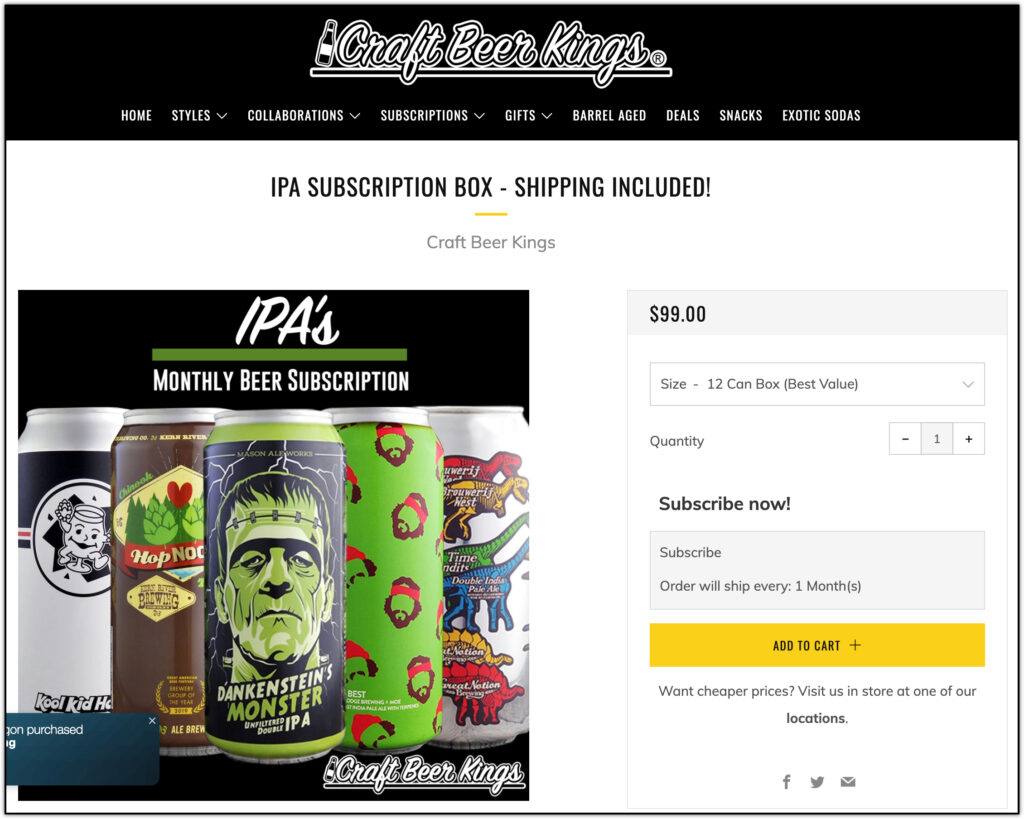 Haven't tried this one yet, but another IPA club has popped up. I've ordered individual beers from Craft Beer Kings before, and they were legit. You can choose 6 or 12 cans per month, so subscribing is easy.
I like the way each IPA club on this list emphasizes different aspects of their club. This one comes with a warning that they'll include single, double, or triple IPAs, ranging from 5% to 10%, and no guarantee that you'll get any specific kind of mix. I guess some dork complained about not getting enough high ABV beers to make it worth their money?
Join: https://www.craftbeerkings.com/products/ipa-subscription-box-free-shipping
---
IPAs and hoppy beers can be divisive. Some folks love them, some folks hate them. As a craft beer lover, and frequent homebrewer, I think there's an IPA for everyone.
For everyone who tells me they just can't stand the "bitter flavor" of IPAs, I tell them that they just haven't had the right one yet. I mean, come on. Some of those juicy IPAs really taste like a mimosa. Am I right, or what?
Well, your "mimosa IPA" is one step away from a double dry hopped New England style IPA, and that's one step away from a session IPA, and so on. Before you know it, you'll be drinking a fresh hop, double dankenstein, three-wood barrel-aged triple dry hopped face melting West Coast IPA and liking it!