Lately I've been listening to The Brewing Networks Brewing with Style, and was inspired to start tasting beers within a single style. I wrote an article before about what off flavors to look for when tasting beer, but realized that I hadn't actually done a lot of the stuff listed on there.
I went to Bevmo yesterday and bought four different kinds of ESB: Fullers, Red Hook, Adnams Southworld Bitter, Bitch Creek. Because I'm still easily influence by what I read about a beer (rather than what I actually taste) I decided to organize the notes into two sections.
I will give my initial impressions, then read about each beer (and listen to ESB episode of The BN Podcast), and give my secondary impressions.
Fuller's ESB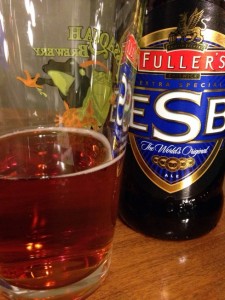 Smell: malty caramel, noticeably the most fragrant of the bunch
Taste: strong honey flavor, I suspect they use some kind of honey malt. Sweet malt flavor, but dry finish
2nd tasting, With Notes
(Taken from RateBeer): cherry and orange, malty toffee, caramel notes, Pale Ale and Crystal malts, biscuity, toffee
I agree with biscuity and orange flavors, but would not be able to find these on my own. I'm not sure about the toffee. According to the ESB style guidelines, toffee should be there, but I could not detect it in any of the beers. I disagree with the cherry bit.
After a few rounds of tasting, I noticed that Fullers had lower low carbonation than the rest, and would say that there is a low amount of spicy hop character. Later in the tasting, the Fullers became way too sweet, and to be honest, I could still taste it in the back of my throat when I woke up the next morning.
Red Hook ESB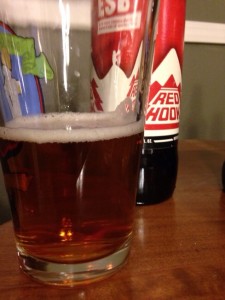 Smell: light malty and honey aromas
Taste: Much drier than fullers. I'm not sure if I can taste an off flavor like sour apple or if it's just because the Fullers was so powerful that it's skewing my view of Red Hook. In retrospect, I could drink way more Red Hook than Fullers because of the dryness and toned down flavors.
off flavor? sour apple?
2nd tasting, With Notes
(Taken from RateBeer) Toasted malt flavor and pleasant finishing sweetness.
*Why is it being called an amber beer? I thought it was ESB.
I guess I agree with toasted malt, and would maybe add grainy to my descriptors. Maltiness comes though as beer warms up. I can also taste something sweet, maybe that's the caramel part. Caramel is still hard to taste for me, like toffee.
Adnams Southworld Bitter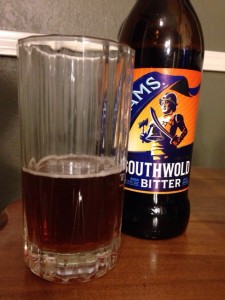 Smell: fruity, malty sweet. There's definitely something fruity going on with this beer, most likely from the yeast. Maybe these are the fruity esthers I hear so much about.
Taste: a bit bland, grainy finish. I think there may have been some stale flavors coming from this beer, but Jamil Zainasheff always talks about how English beers are stale by the time they reach the US, so I may have been anticipating this.
Slight honey flavor on finish.
2nd tasting, With Notes
From Adnams Website: distinctively hoppy and dry with wonderful malt aromas, biscuit and toast
Still smell honey! After reading a bit online, I can now notice biscuity-ness in this beer. This beer is also more drinkable that the Fullers and Bitch Creek (below). I still prefer the Red Hook.
Bitch Creek Extra Special Brown
Smell: roasty, molasses, rootbeer
Taste: The roasty character was dominant in this beer. I could also taste strong, fruity esthers. I feel that this was the most yeast-character dominant beer. It also had the highest carbonation of all the beers.
Honestly, Bitch Creek seemed more like a brown ale than an ESB or "bitter". I don't know how this is listed as an ESB except that they call it an "extra special BROWN". It's definitely the odd man out of the four beers.
2nd tasting, With Notes
After reading on RateBeer and Beer advocate, I guess I would agree that there are some chocolate notes, a creamy head, and spicy hops.
I also noticed that as I continued to drink the four beers, this one had the fullest body to it, though I believe it was listed as having "medium" body. By itself, this was a well balanced beer, but the roastiness was a detractor for this tasting session. I don't think it's to style
Further Reading
My Favorite
My favorite of the bunch was the Red Hook ESB. It was by far the driest, and least malt-forward of the beers. I think this is a US version of ESB because I tasted a bitter from Dustbowl Brewing that had similar characteristics (while being a lot darker, with no roastiness).
Personally, I think the Southworld Bitter was probably most representative of the style. Fullers is definitely one of the most well known, and a fantastic version of ESB, but it had a very unique flavor that is specific to the brand.
Both the Southworld Bitter and Fullers were very malty and sweet. I could probably have 1 or 2 and be done. I actually got full before I could finish all 4 beers, so wasn't even able to get drunk from my tasting session. What a disappointment.
What I learned about RateBeer
This was my first chance to really look through RateBeer's website and see what people are saying about these beer. I was shocked at the rampant douchebaggery going on there. It's impossible to tell if these guys actually know what they're talking about. There seems to be no other central location where I can get better info, so for now I'll have to see what other people are saying, but I will not be joining the site.
[social-bio]