Brewery Name: The Rare Barrel
Location: Berkley, CA
Famous Beers: Egregious, Map of the Sun, Cosmic Dust, Sourtooth Tiger (and more)
Overall Impression
These guys make some amazing beers. They are practically impossible to get a hold of, so if you want to taste one, you've got to go to the taproom. It's a little frustrating how hard these are to come by, but I guess there's not much you can do about that.
Getting There
Parking is hard to find. Supposedly they have 14 dedicated spots, but people that work in the taproom park there, so count on parking on the street…which is will also take a few trips around in circles to find a nearby spot.
Decor
It's pretty awesome to sit around all the barrels. They have a pretty simple setup, but it's clean, and very modern looking. It's a very "open" style atmosphere, with a few couches, some standing spots that you can drink on old barrels, and two long sit-down tables.
Beers
Wise Guise: Beautiful red color and strong taste of raspberries. I was surprised at how obvious the fruit flavor was, since I was expecting it to be a bit more subtle. Not to say it was bad! It's pretty tart, and this would be good as an entry-level sour beer for someone that likes fruit beers.
Map of the Sun: Not very sour, but had enough to make it interesting. Maybe a hint of barnyard character in there? This was a very mild beer compared to the rest, and the apricot flavor was very forward.
Sour tooth Tiger: Very tart. The ginger is quite obvious in the nose and aftertaste. I started out really liking this beer, but after a full glass, I felt the ginger was a big overwhelming. It was still enjoyable though, and a well done beer.
Egregious: My favorite of the bunch! A dry hopped sour! I've never really had anything like it. It was very sour, and the dry hops gave it a flavor profile that actually tasted like dry hops. If you've ever smelled hop pellets, that's what it reminded me of.
I've had dry hopped lagers before that were way too bitter and just had the flavor of bitter plant material. Egregious had the hop flavors, without the bitterness. Great stuff.
Forces Unseen: I think this is the one I had. It's a blend of 5 golden sours aged in oak barrels. This one was a lot more subdued on the sour side, but because of it, the oak was able to come through very nicely for a more well-rounded bacteria fermented beer.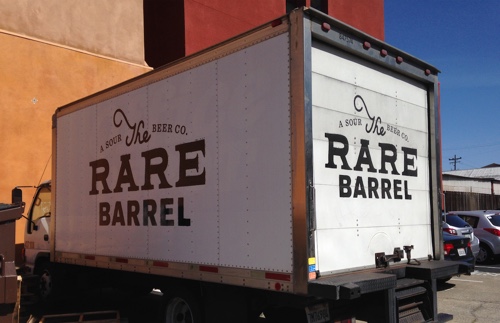 Food
The serve grilled cheese, and that's about it.
Service
Friendly and fast waitstaff, but they should leave parking for the customers. LOL. Sorry, I hate finding parking in the city.
Other Comments
There was a line out the door of about 20 people before they opened at 4:00PM on Friday. This is clearly a hot spot, and sour beers are not a "secret".
It's a HUGE bummer that the only people who can fill growlers are the ambassadors, and you can only sign up by pre-registering and waiting for someone to leave a spot open for you. Probably about 1/2 of the people waiting had their sweet-looking Rare Barrel growler waiting to take home some precious sour beer.
I went there just last week and was able to acquire two bottles of Ensorcelled, their dad sour beer aged with raspberries. I'm writing this just 7 days later, and it's sold out. Try to time your visit when bottles are released or you won't be able to take anything home with you.
Final Word
Awesome, unique beers that are hard to come by. If you are in Berkley or nearby, this place is literally somewhere you MUST go if you want to try some of their world-class sour beers.