Brewery Name: Firestone Walker
Brewery Location: Paso Robles, CA
Famous Beers: DBA, 805, Wookie Jack, Pale 31
Overall Impression
Firestone Walker makes some solid beers. One of the hardest part about growing so large as a brewery is consistency and quality. They do an awesome job of this. However, I would have liked to see a bit more experimental stuff or exclusive stuff in the taproom, as that's what I've grown to love about brewery. These guys have the capacity to do something awesome over at Paso Robles, but what I saw on tap was mostly their standard lineup.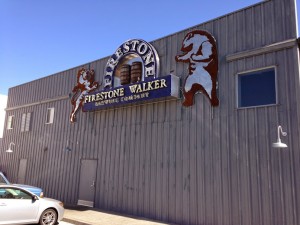 Getting There
They're just off the 101. I recently went on a trip down the coast of California to visit my buddy's brewery Seven Brethren (unrelated to xbrewx.com) in Riverside. Watch out for that stupid turn off right as you exit the freeway, or you'll end up right back on the 101 North like I did. Go under the overpass and continue til the road stop, then turn left.
Decor
I guess to be honest I don't really remember much except that the room was quite large, had a bar as well as booths and high tables. There seemed to be a lot of old drunks and "bros" on the day I went, so I can't say I cared much for the clientele, but I guess you get all types when you get that big.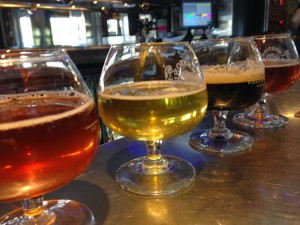 Beers
Unfiltered DBA
To be honest, I'm not really sure what the appeal of an unfiltered beer is. I know that for some beers (like wheat beers) they keep the yeast in suspension and it's supposed to add some character. This beer was not very cloudy at all, and I didn't compare it to the filtered version, so to me, it was just a standard DBA.
The malty sweetness did well with fruit, and was a well balanced beer. As with most "every day" drinkers, there wasn't much special to pick up except that it was well balanced.
Opal Farmhouse Ale
This was a light colored, dry, and crisp beer. There was definitely some kind of Brett used in the beer, as it had a bit of funk/horse blanket to it. I'm still a bit unclear if goaty, horse blanket, and funk are synonyms or are different descriptors, but it was clear that there was some wild yeast activity going on in this beer.
It was my overall favorite of the lineup of beer I drank here. I'm a huge fan of sours and farmhouse ales.
Wookie Jack – American Black Ale
Balanced by intense flavors was the overall impression I got from this beer. Of course the roast malt came though, but it was not overpowering, and there were spicy + floral hop flavors/aromas to balance out the roastiness of the malt.
I thought it paired well with the sweet/salty pecans from the cheese plate I ordered. Roasty beers aren't really my thing at the moment, so I don't have much else to say here.
Agrestic American Wild Ale
This one was a much more intense sour than the farmhouse ale mentioned above. It was also a lot sweeter. It reminded me of the intense sweet/sour balance of candies like Warheads or Sour Patch Kids. The flavor was nothing like it, but the balance of these two strong flavors made it more like a cider than a beer.
Medium body and dry finish. It was a tasty beer for sure, but a bit too sweet for a whole pint or a repeat order.
Stickee Monkee
I'm usually not so into high gravity beers, but this one was really tasty. Even with the honey aromas (I don't like honey), I was very happy with this beer that they are calling a "central coast quad".
Probably the most enjoyable aspect was the brandy like quality that was enough to give you the alcohol flavors, but not enough that you have to make that face and say, "damn, that's a strong beer". The alcohol was warming, not intense, and balanced with a sweetness that will keep you drinking.
If you get this one, be sure to ask for some candied pecans and honey. I got this with the cheese platter I ordered. Again, I really don't like honey but this was a delicious combination, and the most successful pairing of the day.
805, Pivo Pils, Easy Jack
Amber ale, hoppy pilsner, session IPA: There's not much to report here. I could make up tasting notes, but these were pretty standard brews.
Food
I ordered a cheese plate. It was good, but not excellent. It came with some toasted (fried?) bread that was very hard, a few slices of cheese, some fruit, and some candied pecans with honey. Most of what was on there was not bad, but not original or exceptional either.
The worst of the bunch was the sliced apples. I thought they were spoiled at first because the taste was so awful, but then decided that they had been soaked in some kind of flavored/spiced solution. Alone, they were disgusting, but with some of the darker beers the spiced apples actually enhanced the flavors.
Neither the cheeses nor the bread went well with my selection of beers, but I like cheese so was happy to have something to munch on. I thought the block of processed jam was a bit silly to add to a cheese platter, but maybe it was some kind of fancy jam that I didn't really understand what it was for.
The winner of this group was very obviously the candied pecans with the honey. Not only did the pecans taste amazing in the honey, they paired well with the Wookie Jack and the Stickee Monkee.
Note: I saw some people ordering pizza that looked really good!
Service
The people working behind the bar were friendly and fast, but clearly knew very little about the beer they were serving. I asked two of the waitresses some simple questions like what type of hops were used for the IPA and if the knew anything about the farmhouse ale.
The beers were served, and that was about it. One of the best parts about going to a brewery is sitting down with people that know about the beer and can tell you a bit about what you should be tasting, or what's special about what you are drinking. The ladies behind the bar were waitresses, not cicerones.
Final Word
I enjoyed my stop at Firestone Walker. If I were to go back, I'd probably go with friends. It's much more of a general brew pub than a tasting room, ie more suitable to drinking a few pints with a pizza. I'd also do the tour next time!
[social-bio]