It's been a crazy couple of weeks trying to finally get brewing in my new house. I had a great time buying stuff, but it was also a bit stressful figuring out everything I needed to order again (having left it at my previous residence),move to a kegging system, gather information for recipes, and also figure out how to get my grandfather's white concord grapes in there.
So I decided to brew a saison since I've never done one and I think the light body and fruity yeast would go well with a lighter grape flavor. Maybe I'll be able to get some white wine tones out of it, and I think a white wine saison sounds nice. But winter is setting in and saisons ferment at a higher temperature. I should have done this earlier!
I decided to buy the Fermostat from OhmBrew Automations for my 21 cu feet fermentation chamber, and well, who wants to waste all that space? So now I'm going to brew two saisons side by side: one Belgian, one French. Then I had to figure out how I was going to set the temperature. Ah well, let's just get into the recipe. I will create individual pages for each as I  brew them and maybe even do a video.
Recipe 1: Lemon Grape French Saison
8lb Belgian pale ale malt (replaced with 8lb American 2 row because the homebrew store was out)
1lb malted wheat
X lb white concord grapes with skins in fermenter (amount still undecided)
2-3 fresh lemon juice + 1 lemon rind at flame out
1 oz Norther Brewer hops, 60 minutes
1.5 ox Czech Saaz, 30 minutes
2 oz Kent Goldings, 5 minutes (possibly reduce to 1 oz?)
Ferment 2 days at 68, raise temp to 75 for 2 weeks
Possibly ferment longer, not sure
Recipe 2: BYO Mike's Best Belgian Saison
Original Recipe found on BYO.com
12 lb Belgian Pilsener
.9 lb Carapils
1.5 lb Vienna
1.3 oz Perle, 60 min
.75oz Kent Goldings, 10 min
.20 ox Kent Goldings, 0 min
.5 oz Czech Saaz, o min
1 tsp coriander, 5 min
1 tsp sweet orange peel, 5 min
I will link to the full recipes once they are written up, and keep track of fermentation and tasting results. I've still got to order a few more things like a scale, my kegging/draft setup, and a few more tap faucets (though I guess those aren't really necessary).  I also need to wait for my new space heater to show up so I can get my fermentation chamber nice and hot. The first one I ordered had to be manually turned on so it won't work for my setup. Hopefully I'll get brewing by Friday.
Oh, and I'm also planning on doing a post about how I made my fermentation chamber (planning on being a double decker for 4-5 simultaneous fermentations).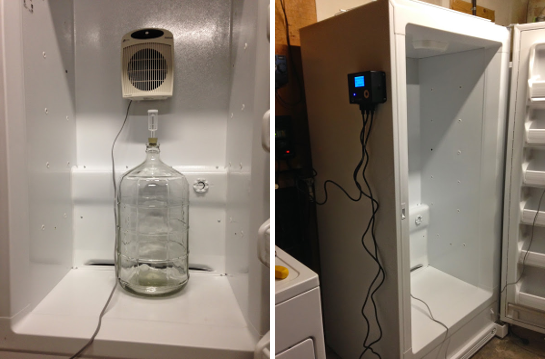 [social-bio]