Brewery Name: Wild Donkey
Brewery Location: Redlands, CA
Famous Beers: Oreo (Vanilla w/dash of Chocolate)
Overall Impression
Despite the criticisms online, I think Wild Donkey has some pretty good beers. At the very least, they have some very creative selections. It's a pity that most of them were out when I was there.
Getting There
Opposite corner from Ritual, and across from the empty field. Use your GPS because there's nothing else out there.
Decor
It's a pretty small taproom, but there's a lot going on. They must have an artist on staff or at least a buddy, because their decor has a very "home made" feel to it. There's a bit of a bro vibe to the place, with beer pong competition, photos of parties, and groups of roaming old men coming in and out, but it's not the bro-iest of places I've been
Beers
Again, this was on my massive taproom run and my first try at reviewing breweries so my notes are pretty non existent. It didn't help that most of their "interesting" beers were out.
Watermelon Wheat, the White IPA, and the Orange Punch were out. I got a flight that included the Citra Pale Ale, the Lemon Wheat, the Summer Quencher, and something else I don't remember.
I really wanted to try the "Oreo", which seems to be a fan favorite of theirs. It's the Vanilla Blond mixed with a bit of chocolate. I don't really like vanilla, so I opted out and just got the Chocolate Moose Porter.
I really liked their ideas for beer combinations. You can see of some the create styles in the image below. They are all really creative names, with appropriate styles. Blending beers seems to be a new thing that's catching on, and I think these guys are doing a good job of it.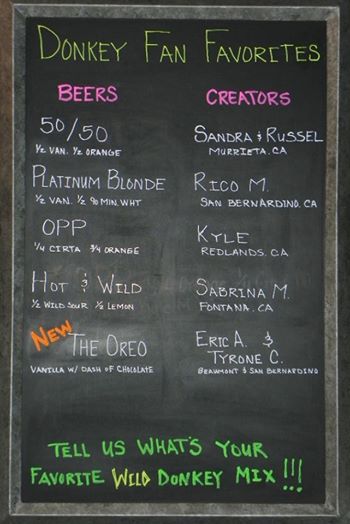 Food
N/A
Service
The bar staff was very friendly, and knew a decent amount about the beers. I didn't grill her, but did talk a bit about their brew setup.
Final Word
This is a pretty sparse review because we didn't spend much time there. I probably wouldn't go out of my way to go back, but if you've never been, it's worth a stop, even if just to try their mixed beers.
[social-bio]